A high-quality handgun can cost hundreds of dollars, whether it's new or used. These tips can help you make the right choice when you buy a gun.
I gave up buying new cars a while back. I like new cars, but my practical and cheap side won out and now I buy only used vehicles. Of course with a used car, your options are more limited and the car's features might not include everything you want. Also, you don't really know how well the previous owner maintained the car or what mechanical issues might arise.
Buying A New Gun
When you opt to buy a new handgun, you have the liberty to select exactly what you want. You can choose the size, caliber, color, sights, grips, accessories, manufacturer, etc. Most guns stores will special order anything you want if they don't have it on hand, and you get the benefit of a manufacturer's warranty should anything go wrong. With a new gun purchase, many gun stores will also stand behind the product and assist you in dealing with the manufacturer if you have any issues.
When you buy a new gun, you also get all of the extras the manufacturer wants you to have. This includes the original box or case. Most modern gun boxes are made from polymer and offer secure protection for your gun. Many can be locked shut with a simple padlock, making them good for transportation or even basic home security.
A trigger or cable lock will also be included for added safety, and all of the accessories will be included as well: cleaning rods, disassembly tools, spare magazines, warranty cards and, perhaps most important, the owner's manual. Of course, buying a new gun means paying full price and for some guns that are in high demand and hard to find, you might even pay more than full price.
Buying A Used Gun
When you buy a used gun, you can save 20 or 30 percent or more from the cost of the same gun new. This is for a used gun in good working condition. However, it's up to you to determine whether the used gun you are considering is indeed is good condition. Make sure all of the controls on the gun function as they are intended to.
For semi-automatic pistols, make sure all the safety devices are fully functional. If there's a grip safety, squeeze the trigger without pressing it to make sure it works. If there's a thumb safety, activate it and try to squeeze the trigger, then deactivate it and try to dry fire the gun. Take special care to note how the trigger feels. It should not be overly heavy or gritty. Make sure the gun fires in both the single-action and double-action modes if so designed. If there's a de-cocking mechanism, try it out as well.
Check the takedown lever for proper functioning and disassemble the gun. If the gun is very dirty, it's a good indicator that it was not properly maintained. Sometimes guns that are having issues just need a thorough cleaning, or there might be a more severe problem. If the gun is already dirty, it will be more difficult to determine the situation you're dealing with.
You also want to check the barrel. There should be no bulges anywhere along the outside. Inspect the rifling and look for rust, pitting or uneven wear. If you see a ring inside the barrel, that's a bad sign. Check the muzzle end of the barrel, especially where the rifling ends. It should be sharp and crisp. Look for excessive wear in this area. The gun should fit together well without excessive play in any of the parts. Check the slide to frame fit.
Most manufacturers offer a transferable lifetime warranty on their guns no matter who owns them and will repair any problems. However, if the previous owner has tampered with the gun or made gunsmithing changes, the warranty might be void.
For revolvers, the cylinder lock-up and timing is the most important consideration. Make sure the chambers are aligning properly with the barrel and there's no play in the cylinder, especially when the revolver is cocked. Make sure the trigger is functioning properly and that you cannot push it forward once it's cocked. Check the trigger squeeze in single- and double-action, making sure it is neither too heavy nor too light. The gun's cosmetics can also be an indicator of proper care and maintenance.
Where To Buy A Gun
A gun store is the most obvious place to purchase a gun and where most people start. This makes sense, because a gun store will have fixed hours of operation and requires little advance planning to visit. It is a formal business that occupies a fixed physical location, so if you have concerns, questions or problems you can easily return and ask for assistance.
A gun store will generally be welcoming, well lit and well appointed, with organized and labeled merchandise. Prices are clearly displayed, and the staff will generally be knowledgeable and helpful. If you go to a gun store where this is not the case, you might want to go elsewhere.
The biggest advantage of shopping at a gun store is that the staff will have plenty of time to talk with you and answer your questions. They will have a good selection of handguns for you to hold and try out to see what you like and what works for you. They will have a full selection of ammunition, holsters and accessories to match your gun. There is simply no substitute for being able to handle a variety of guns and products before deciding which to purchase.
Many gun stores will also have an on-site gunsmith or access to one who can make repairs or adjustments or customize your gun any way you prefer. Because of the Internet, gun stores have had to adjust and become more competitive in their pricing. However, you will still generally pay a premium for the convenience and the service, but for many folks it's money well spent.
Some gun stores will not handle transfers of guns you bought online or will charge an exorbitant fee, especially if it's a gun they have in stock themselves. But many others will handle transfers of firearms from other sources to you for a reasonable fee.
Gun shows are another great place to shop. There are usually dozens of dealers and vendors selling guns and everything gun-related, including holsters, clothing, ammunition, safes, cleaning kits and accessories. At some of the larger shows, there are hundreds of tables full of guns and gear, and some vendors offer on-site training and gunsmithing services, as well as making custom holsters while you wait.
The selection and opportunity to see and touch all of this equipment is unmatched by any gun store, and because there are so many dealers competing for your business, the prices are very competitive. Gun shows can be extremely entertaining to walk around and see new and interesting products. For the beginner, they can also be overwhelming.
Vendors at guns shows are usually very busy and have little time to answer questions or demonstrate their products. Some are even downright impatient, to be honest. If you want to go the gun show route for your purchase, it's best to have done all of your homework in advance and know exactly what you want. The vendors are only there for the weekend, so if you have a problem, you are on your own.
If you want something custom or out of the ordinary, you are also unlikely to find it, since the vendors will focus on the most popular guns and won't be around to special order anything for you. Many of these dealers also have physical locations where you can go to make a purchase or special order after the show, but they might be located far away from you.
There will be a lot of buying and selling of used guns at these shows. There's plenty of room to haggle, and good deals can be found. But again, as with any used gun purchase, there's no sure way to know if the gun is in good working order. If you buy a used gun from a dealer or anyone else at a gun show, they're typically sold "as is." The best prices will be for used guns from private sellers. Usually, there will be some folks walking around with a sign stating that they have a gun to sell, and they are open to haggling.
You can also expect to save money on new guns at gun shows. In my experience, the gun show price for new guns is generally about 10 percent less than the gun store price. This difference might not be worth it if you have a lot of questions or prefer a calmer buying experience.
The Internet is another excellent resource of information and reviews for different guns. There's no shortage of bloggers who will tell you exactly what they think of a gun. Some are better than others and it's best to read a variety of reviews. You can also purchase a firearm online and have it shipped to a local dealer who can then transfer it to you.
The Internet is especially helpful for locating rare or hard-to-find guns, and you can find the absolute best prices. Keep in mind that you will have to cover shipping (which on handguns has to be overnight) as well as the transfer fee your dealer charges, so you might not save as much as you think.
The Internet is also a great place to purchase holsters and accessories but again, when you buy stuff without first handling it, sometimes it doesn't work out for you. In most places you can also order and receive ammunition directly to your door from Internet vendors.
There are several websites that host firearms auctions and sales. There are also major firearms distributors who sell customer direct from their websites and ship the gun to a dealer close to you who has already agreed to handle the transfer for them.
Know The Law
You want to do the right thing and follow the law. Ask your local licensed gun dealer and also check with the state and local police either online or by calling if you have specific questions about the laws regarding purchasing and owning a gun.
Editor's Note: This article is an excerpt from Gun Digest Shooter's Guide to Concealed Carry, available now at GunDigestStore.com.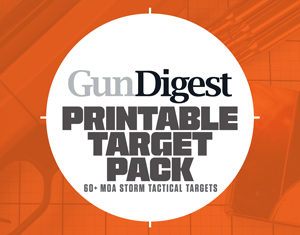 Next Step: Get your FREE Printable Target Pack
Enhance your shooting precision with our 62 MOA Targets, perfect for rifles and handguns. Crafted in collaboration with Storm Tactical for accuracy and versatility.
Subscribe to the Gun Digest email newsletter and get your downloadable target pack sent straight to your inbox. Stay updated with the latest firearms info in the industry.