Bond Arms was founded in 1995 with the idea that the Remington Model 95 over/under, single-action Derringer could be converted from an Old West anachronism into a modern defensive handgun. The company now gives shooters the power of the .410 shotshell or pocket the potent .45 ACP, in a double-barrel pistol.
Twin Barrel Options
There are two models that represent the size extremes of the Bond Arms' lineup. With a long 4.25-inch barrel and an extended black ash laminated grip, the Ranger arrives ready to shoot .45 Colt revolver cartridges along with 2.5- and 3-inch .410 shotgun shells, all from the same double barrel. Representing the Bond Arms Minis is the recently released Bond Arms Backup with a 2.5-inch .45 ACP barrel and standard-size black ash grip panels.
The modular frames of these pistols are available with a removable trigger guard, like the Backup, or without one, like the Ranger. A removable hinge pin allows the factory-installed barrels to be removed and replaced with a variety of caliber-conversion barrels. Conversions are sold in four lengths (2.5, 3, 3.5 and 4.25 inches) with chamber options including .22 Long-Rifle, .44-40 Winchester and .357 Magnum, to name just a few.
Unlike some of the mystery-alloy Derringers floating around the gun market, the frames and barrels of the Bond pistols are constructed completely of stainless steel using modern manufacturing processes. This makes for pistols that are both strong and durable.
The original Remington Derringer's only concession to safety was a not-so-reliable half-cock position for the hammer. Bond Arms has replaced the half cock with a rebounding hammer that automatically locks back away from the firing pins after each shot. Additional safeties include a release-lever retention device to prevent the barrel from swinging open while firing, and a button-style cross bolt safety.
The latest update to the Bond pistol design is a new trigger and hammer that measurably improve the trigger pull. Most shooters are used to triggers that have a straight-back feel to the trigger pull. The Remington 95's trigger exhibits more of a roll-it-down feel, much like rolling the pad of the finger to take a fingerprint. The new trigger is shaped to create more of a pullback feel, has a shorter travel distance and a lighter trigger pull weight.
Using a Lyman's digital trigger gauge to check the pull, the sample guns in this review had triggers that cycled with 4-pounds, 2-ounces of trigger pull compared to the 5-pound, 12-ounce pull of an older model that was on hand. The hammer has been modified with a flatter, wider spur to provide better purchase for the cocking thumb. It also requires less pressure to lock back for firing.

Easy, Effective Carry
Running the Bond Arms pistols at the shooting range is a unique experience. The handling of these little double-barrel guns is unlike any of the semi-autos or revolvers on the market.
The 2.50-inch-barrel .45 ACP Backup proved to be reliable with a variety of ammunition. Working its way through a mix of loads ranging from bulk ball rounds through defensive hollow points, it had no malfunctions of any kind. It should be noted here that Bond pistols chambered for other semi-auto cartridges, including the 9mm and .40 S&W, can be safely fired using +P-rated ammunition. However, the walls of the .45-caliber-bore barrels are thinner, so the company recommends sticking to standard pressure rounds in the .45 ACP barrels. Besides, with the felt recoil of standard loads ranging from stout to stouter, leaving the hottest rounds out of the range test didn't seem like such a bad idea.
Because this is an over/under pistol, the two barrels shoot to slightly different points of aim. As a result, the shooter is left with two sighting options using the fixed front blade and rear notch sighting system. One is to practice adjusting the sight picture leveling the front sight with the rear sight for the first shot, and then raising the front sight up a bit above the rear sight for the second (and usually lower) second shot.
The other sighting option is to hold the sight picture at a single point on the target and allow the second shot to drop. Both sighting methods produced acceptable combat accuracy at seven yards with the Backup. Adjusting the sight picture of the stubby 2.5-inch barrel produced 2- to 3.5-inch groups when 10 rounds were fired at the same spot on the target. Using a fixed sight picture produced 2-inch wide groups with a 5- to 6-inch vertical spread when ten shots were fired at 7 yards. Again, not target competition accuracy, but sufficient for combat-accurate center-of-mass shots.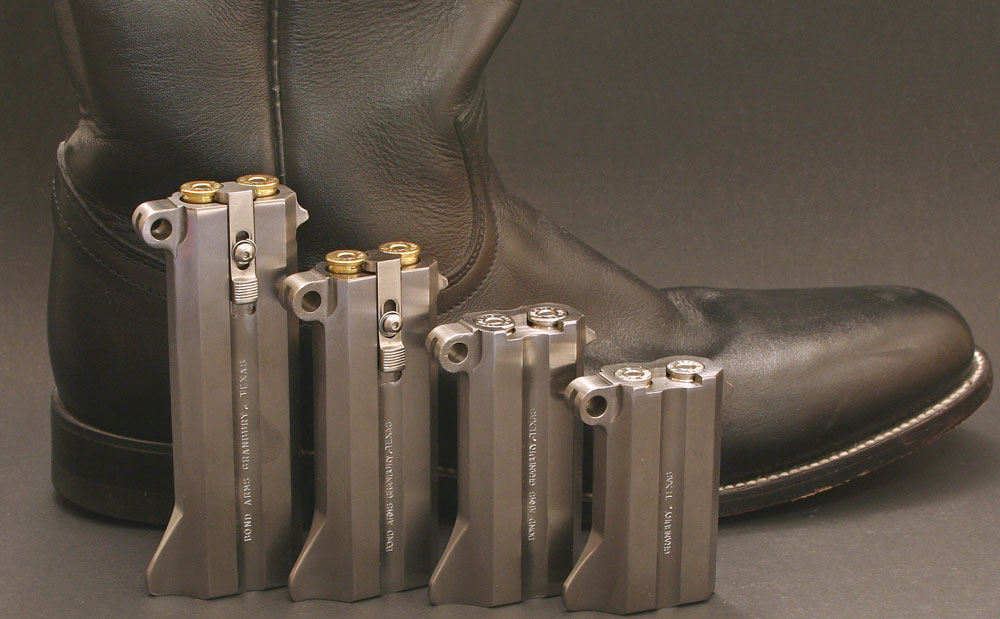 Moving on to the .45 Colt/.410 Ranger with the 4.25-inch barrel, accuracy testing with modern defensive hollow point .45 Colt loads produced 3-inch groups at 7 yards. Felt recoil was much more moderate and controllable than one might expect it to be.
Handguns like this one cause the pattern of .410 shells to open up much more quickly than a shotgun will. Birdshot shells loaded with No. 6 lead shot peppered an 8½ x 11-inch target from top to bottom at just 10 feet, making them an ideal short-range solution for pests and snakes. Buckshot loads, including the Remington HD 3-inch five-pellet and Federal 2½-inch four-pellet loads, produced patterns ranging from 3.5 to 4.5 inches at 10 feet. Just like its Mini compatriot, the Ranger was utterly reliable with all of the ammunition tested.
So is a power-packed double barrel pocket pistol the right gun for you? Customers of Bond Arms report a variety of reasons for owning their pistols. Some are carried as backups to larger defensive handguns chambered in the same caliber, others are loaded with birdshot in case of encounters with venomous snakes. As for myself, I find that people who own one or more of the Bonds pistols say they are just plain fun to shoot. Along with caliber conversion barrels, the company offers a diverse set of grips and holsters for their pistols.
Bond Arms Back Up
Caliber: .45 ACP or 9mm
Capacity: 2 rounds
Barrel: 2.5 inches hinged over/under, six-groove rifling, RH twist, 1:12
Trigger: Single action
Sights: Fixed-blade front, notch rear
Frame: Stainless steel
Grips: Laminated black ash
Length: 4.5 inches
Height: 3.75 inches
Width: 1.12 inches
Weight: 18 oz. (.45 ACP), 19 oz. (9mm)
Options: Removable trigger guard, hard case, manual, lock, caliber conversion barrels available
Suggested Retail Price: $399
Bond Arms Ranger
Caliber: .45 Colt/.410 (3-inch chambers)
Capacity: 2 rounds
Barrel: 4.25 inches hinged over/under, six-groove rifling, RH twist, 1:12
Trigger: Single action
Sights: Fixed-blade front, notch rear
Frame: Stainless steel
Grips: Laminated black ash
Length: 6.25 inches
Height: 4.5 inches
Width: 1.12 inches
Weight: 23.5 oz.
Options: Holster, hard case, manual, lock, caliber conversion barrels available
Suggested Retail Price: $634
Website: bondarms.com
Check out these speed loaders for Bond Arms' Derringers.
Editor's note, this article originally appeared in the Nov. 4, 2014 issue of Gun Digest the Magazine.
---
NEXT STEP: Download Your Free Storm Tactical Printable Target Pack
62 Printable MOA Targets with DOT Drills - Rifle Range in YARDS
This impressive target pack from our friends at Storm Tactical contains
62 printable targets
for rifle and handgun range use. Target grids and bullseye sizes are in MOA. Ideal for long-range shooting!
Subscribe to the Gun Digest email newsletter and we'll send your print-at-home target pack right away.
Just enter your email address below.
---