No big surprise that Arizona is a gun friendly state. After all, it made the Colt Single Action Army revolver the state firearm just this year.  It turns out the Grand Canyon State is just as welcoming a place for gun makers.

As the Arizona Republic recently reported, "More than 100 manufacturers of firearms and components [are located] in Arizona…Those manufacturers generate hundreds of millions of dollars in annual sales.  The state has mainstream manufacturers such as Sturm, Ruger & Co., which operates a pistol manufacturing facility in Prescott. It also is home to boutique companies, such as Patriot Ordnance Factory, a Glendale semiautomatic rifle maker, and Coharie Arms Inc., which assembles clones of MP5 semiautomatic rifles in Mesa."

All told, these businesses provide over 1,000 jobs in the state. "It's a great state for firearms," said Kelly McMillan, president of McMillan Fiberglass Stocks and an officer in the related McMillan Firearms Manufacturing.  "The politics are pro-firearms, and the weather is as good as it gets for making fiberglass gun stocks."

Phoenix-based Robar Companies Inc. builds and customizes rifles used by SWAT teams.  Robar founder Robbie Barrkman said the pro-shooting culture is a big draw for manufacturers.

"There is a big shooting public in Arizona," he said.  "There are lots of gun owners and lots of places were they can shoot."
Source:  Arizona Republic 7/15/11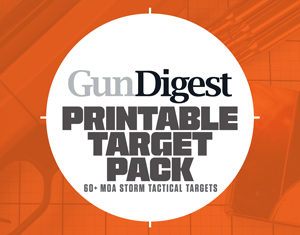 Next Step: Get your FREE Printable Target Pack
Enhance your shooting precision with our 62 MOA Targets, perfect for rifles and handguns. Crafted in collaboration with Storm Tactical for accuracy and versatility.
Subscribe to the Gun Digest email newsletter and get your downloadable target pack sent straight to your inbox. Stay updated with the latest firearms info in the industry.