[imagebrowser id= 464]
While I was hunting elk in the Madison Range of Montana last October, a brief snow storm rushed over the mountains and dropped about an inch of fresh powder. The sudden burst limited visibility and made crossing the boulders on the base of the mountain a slippery challenge, so my hunting partner and I sat out the storm under a clump of trees overlooking a river valley. When the brief storm ebbed and the first streaks of sunlight filtered through the firs and pines of the Madison Forest, we started down into the valley below to pick up the trail of the elk herd. That's when we came upon the grizzly tracks.
The prints were unmistakably large, round and very fresh. The bear had crossed the trail no more than 10 minutes before we arrived. Being a born and bred Midwesterner, I was caught totally unawares; no one had mentioned the word "grizzly," and this late in the season I imagined all the bears would be in dens. The crisp prints on the fresh snow were a clear indicator that I was wrong.
Every close encounter I've had with grizzlies has been a hackle-raising experience similar to that one. In Alberta in 2014, I had to abandon a productive black bear bait because a large male grizzly decided to claim the food for himself. While hiking the Russian River in Alaska in 2012, two terrified tourists broke out of the timber ahead of me in a hurry to get back to their rental car because they'd stumbled upon a pair of grizzly cubs at the water's edge and knew the sow was close by. Thankfully, though, that's been the extent of my encounters with bears, and even though they were a bit frightening at the time, each of those experiences has made my time in the wilderness richer. Still, if that unlikely moment arrives when I must defend myself from North America's greatest land predator, I fully understand that my only hope of survival might be resting in my holster or on my shoulder.
The shotguns, rifles and handguns listed here come recommended by people who live alongside bears, from fishing and hunting guides to scientists, hikers and helicopter pilots. Before you head into grizzly country, it's essential to be prepared; having the right defensive firearm should be a top priority.
Editor's Note: This article originally appeared in the April 2016 Issue of Gun Digest the Magazine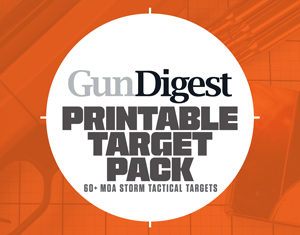 Next Step: Get your FREE Printable Target Pack
Enhance your shooting precision with our 62 MOA Targets, perfect for rifles and handguns. Crafted in collaboration with Storm Tactical for accuracy and versatility.
Subscribe to the Gun Digest email newsletter and get your downloadable target pack sent straight to your inbox. Stay updated with the latest firearms info in the industry.