A clover-leaf grouping sends nearly any benchrest competitor's heart soaring, except one perhaps. Linking shots together is really just the tip of the iceberg for rail gun shooters. Putting them all through the same hole is the goal.
Simply put, these firearms are custom built onto a platform that provides the utmost stability, among other extreme enhancements. As Jeff at Taofledermaus (German for bat) points out in the above video, there isn't a stone left unturned in these shooters' quest for accuracy and precision.
How well can these one-of-a-kind firearms deliver? Well, as the video shows, a micrometer is sometimes required to determine who takes the day. I suppose on a rig such as a rail gun, a finish with any wider margin would be disappointing for everyone involved.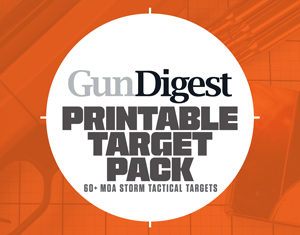 Next Step: Get your FREE Printable Target Pack
Enhance your shooting precision with our 62 MOA Targets, perfect for rifles and handguns. Crafted in collaboration with Storm Tactical for accuracy and versatility.
Subscribe to the Gun Digest email newsletter and get your downloadable target pack sent straight to your inbox. Stay updated with the latest firearms info in the industry.