The more you reload ammunition, the more you need a chronograph. Find out why you should get a chronograph for reloading and what features to look for.
We handloaders, especially those of us who play the benchrest rifle game, strive for the utmost in accuracy. We weigh our bullets, cases, and powder charges, hem and haw over ¾ vs. ½ MOA accuracy. Yet, you'd be shocked to find out how many of us don't own or use a chronograph for reloading.
"Well, the book says I'm going blah-blah fps, and that's got to be close enough…"
You know you've heard it before. Knowing your rifle's actual muzzle velocity is paramount; not just an approximation, but the exact number. All the accuracy in the world won't help you when you don't know the proper amount of holdover, because you're basing the trajectory curve on false information.
Even worse, I've seen those who have gone to the trouble of purchasing a ballistic reticle riflescope, which is calibrated for bullet drop at certain distances, and complain that they don't hit where they are supposed to hit. And some of the gun games require a minimum energy/velocity combination, to make 'major', and the only way to be sure that you're in compliance is to chrony your loads.
All of this can easily be alleviated with the purchase of a good chronograph. They come in many shapes and sizes, and in a wide variety of price ranges.
The first one I owned was a Competition Electronics ProChrono Digital, and it served me well for years, handily measuring the velocities of rifle and pistol alike. That is, until, Dr. Mike McNulty and I tried to chronograph a .505 Gibbs, and fried the electronics from the report. Ooops.
I replaced it with an Oehler Model 35P, an amazing machine that gives you a cash register-like printout of the string of shots, with an averaged velocity, along with high and low shots and standard deviation, printed out nicely so you can keep an exact record of your rifle or pistol velocity.
Here's how they work: there are a pair (or a trio) of electronic sensors, directly below the skyscreens, which diffuse the light. These sensors are very touchy, and measure the time difference, right down to a gnat's whisker, that it takes the bullet to cross each sensor. That time, divided by the distance between the sensors, gives us the speed in feet per second.
My ProChrono Digital had two screens, about 18 inches or so apart, but the Oehler 35P (which I refer to as "The Cadillac" of chronys), has three screens. It is about four feet long and measures the time difference between screens one and two, and the difference between screens one and three, to give a better average, and minimize the false readings.
When using a scope reticle with a drop-compensated set of crosshairs to aid in hitting distant targets, it is extremely important to be sure that the trajectory of your rifle will coincide with the calibration of the reticle. They are designed to operate with certain bullets, at certain velocities.
While no system is perfect, a quick glance at a trajectory chart for the bullet you've chosen, at the speed you've measured, will allow you to interpolate the slight differences between the actual trajectory and holdover, and the trajectory to which the reticle is calibrated.
A quick example of some life-saving chrono observations. My 6.5-284 Norma gave velocities very close to those advertised in the reloading manual when using flat based bullets, but with boat tails the velocities were 150 fps lower than called for. I'd have missed, or worse, wounded a game animal at longer distances had I not put the ammunition through my chronograph.
You'll end up using your chrono more often than you'll think, do some homework and find one within your budget; they're a great tool.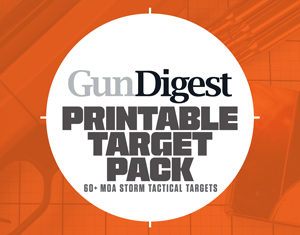 Next Step: Get your FREE Printable Target Pack
Enhance your shooting precision with our 62 MOA Targets, perfect for rifles and handguns. Crafted in collaboration with Storm Tactical for accuracy and versatility.
Subscribe to the Gun Digest email newsletter and get your downloadable target pack sent straight to your inbox. Stay updated with the latest firearms info in the industry.