Browning has added a slew of new models to its Citori 725 line of shotguns this year. And the latest additions appear tailor made for shooters searching for a customizable gun.
The Utah company's Pro Sporting and Pro Trap models are designed to adjust to their owners through a number of modifiable features. The one that might catch the most eyes is the Pro Balance System.
The in-stock weight system allows shooters to fine-tune their guns balance point. This feature should make both the field and competition over/unders fast to shoulder and quick to swing.
Also adding to the Pro Sporting and Pro Trap's adaptability are their Pro Fit Adjustable Combs. This should be a nice add-on, which will allow each shooter to make his gun a natural pointer with a few turns of a screw.
The new shotguns have a number of features common to all Citori 725s, including: Fire Lite Mechanical Trigger System; full-width hinge pin and tapered locking bolt; and Invector-DS choke tube system.
The Citori 725 Pro Sporting will be offered in 12 and 20 gauge with 30- or 32-inch barrels at a suggested retail of $3,999.99. The Citori 725 Pro Trap 12 gauge features a high rib and with 30- or 32-inch barrels and a suggested retail of $3,999.99.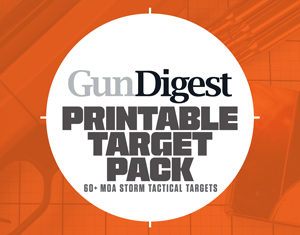 Next Step: Get your FREE Printable Target Pack
Enhance your shooting precision with our 62 MOA Targets, perfect for rifles and handguns. Crafted in collaboration with Storm Tactical for accuracy and versatility.
Subscribe to the Gun Digest email newsletter and get your downloadable target pack sent straight to your inbox. Stay updated with the latest firearms info in the industry.