More than living up to its name, Mission First Tactical's Minimalist AIWB holster cuts down the bulk of everyday carry.
How The Minimalist AIWB Holster Improves Appendix Carry:
Lightweight, the rig uses a minimum of material
Ambidextrous, it works for right- and left-handers
Tuckable, the holster is easy to put into deep concealment
Claw and spacer system cuts down overall print
Best known for its excellent AR-15 accessories and upgrades, Mission First Tactical has turned its eye to concealed carry as of late. And if its Minimalist AIWB Holster is any indication of things to come, armed citizens are lucky the company is branching out.
Living up to its name, the rig cuts a shadow of a profile, using a jot of material. Yet, the Minimalist AIWB provides the performance and reliability of a full-sized appendix holster. Quite a combination.
---
Become A Holster Expert:
---
How Mission First Tactical achieves this is the use of Boltron, a durable thermal plastic that molds to every nook and cranny of a handgun. In the case of the Minimalist, it is molded around the trigger guard and fore-end of the pistol, keeping the trigger protected when the pistol isn't in use, providing excellent support and passive retention.
Furthermore, it has a claw, which cuts down the profile of your pistol, keeping it firmly pressed against your side. If you need to reduce your gun's print even more, the Minimalist AIWB system comes with a spacer to push the toe of the holster further away from your body and more into your side. The design also tends the facilitate a lightning-fast draw, and an audible "click" when fully reholstered.
The tuckable Minimalist offers a fairly flexible system as well. The holster is ambidextrous, boasts 20-degrees of cant adjustment and accommodates belts from 1 to 1.5 inches in width. There's one catch to the rig. According to Mission First Tactical, for safety reasons, the Minimalist AIWB must be removed from your belt for reholstering.
The MFT holster is fairly light on the pocketbook, with an MSRP from $34.99 to $49.99. A good value, if you're shooting to reduce the bulk of your EDC system.
For more information on the Minimalist AIWB Holster, please visit www.missionfirsttactical.com.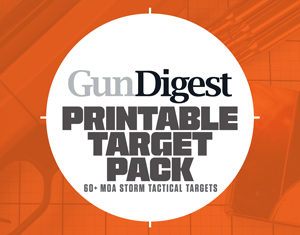 Next Step: Get your FREE Printable Target Pack
Enhance your shooting precision with our 62 MOA Targets, perfect for rifles and handguns. Crafted in collaboration with Storm Tactical for accuracy and versatility.
Subscribe to the Gun Digest email newsletter and get your downloadable target pack sent straight to your inbox. Stay updated with the latest firearms info in the industry.