Federal Premium has released bullets from its Trophy Bonded Tip and Syntech lines as individual reloading components.
The Trophy Bonded Tip is offered in these diameters: .308, .284 and .277.
The Syntech line is available in .400, .451 and .355 bullet diameters
The Syntech gives handloaders a solid target round option.
Federal also released its new Train + Protect round.
The Train + Protect is a defensive hollow point economical enough to use for practice.
As Gun Digest Editor Luke Hartle points out in the above video, there's always a lot going on at Federal Premium Ammunition. But the monolithic ammo company's latest venture might take the cake.
In a rare mid-year launch, Federal announced it is now making two lines of bullets available to reloaders. You heard that right; the company is taking on the out-and-out bullet biz, a boon for handloaders from Juneau to Jacksonville.
In some respects, this is a logical move by Federal Premium. The brand is owned by the same company that manufacturers RCBS Reloading. But, as Federal's Justin Johnson goes into, it's been a long time coming and an offering shooters have been demanding for years.
While the company is aiming to cover a wide spectrum of shooting interests, hunters will be especially heartened with Federal's initial offerings. There is a slew Trophy Bonded Tip bullets coming down the pipeline. In all, six different bullets in three different diameters (.308, .284, .277) and five weights are being offered, more than enough options to cover the majority of North American game.
In addition to this, Federal is offering one of its most cutting-edge handgun bullets with the launch. Reloaders can now take advantage of Federal's American Eagle Syntech line with .400, .451 and .355 bullet diameters available. The polymer-jacketed bullets increase barrel life by eliminating metal-on-metal contact, while retaining strong ballistic performance that make them a dandy practice option.
While Federal's bullets steal the show, the company still is rolling out innovative ammunition. And it released an intriguing self-defense round in conjunction with its reloading components. Train + Protect arms shooters with an affordable hollow point defensive round that is cheap enough to also use for practice. Ingenious in its simplicity, Train + Protect is available in 9mm, .40 S&W and .45 ACP.
Check out the above video and find out the minutia of what Hartle uncovers at Federal. There's a lot to load up with in the company's most recent announcements.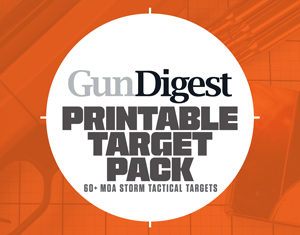 Next Step: Get your FREE Printable Target Pack
Enhance your shooting precision with our 62 MOA Targets, perfect for rifles and handguns. Crafted in collaboration with Storm Tactical for accuracy and versatility.
Subscribe to the Gun Digest email newsletter and get your downloadable target pack sent straight to your inbox. Stay updated with the latest firearms info in the industry.