Reintroduced in three sizes, the Colt Combat Elite is striking as ever.
Nothing says a pistol has to have head-turning good looks to get the job done. In fact, plenty of handguns more than wander into plug-ugly territory, yet are bet-your-life reliable when things get down and dirty. Ultimately, ascetics to the devil, that's what counts.
That said, it sure is nice to have the extra mile in a pistol and find one that shoots as pretty as it looks. Colt has hit both nails squarely on the head, not once but three times, with the re-release of one of its most popular 1911s — the Combat Elite. Back in action as a family of pistols, the Combat Elite Government, Commander and Defender models deliver the professional-grade fit, form and function that made the pistol among the most coveted modern 1911s, in a package as sharp as a straight razor.
Jumping right to the frills, Colt maintained the Combat Elite's traditional two-tone, but with a striking twist. The company finishes the stainless-steel frame and slide with a black ion bond, then goes back and polishes the flats. The results speak for themselves — a darkly handsome pistol, with enough gleam to catch the eye.
Additionally, Colt has refined the Commander Elite family with checkering on the front strap, front and rear night sights and an ambidextrous thumb safety. Moreover, they've expanded the line with three size options to meet any need. Here's where the rubber meets the road, all three pistols are identical in function, in turn, a Government model is as familiar as a Defender.
Mama, Papa or Baby bear, there's something for everyone in the new Colt Combat Elite family.
For more information on the Colt Combat Elite, please visit: www.colt.com.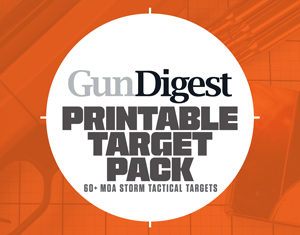 Next Step: Get your FREE Printable Target Pack
Enhance your shooting precision with our 62 MOA Targets, perfect for rifles and handguns. Crafted in collaboration with Storm Tactical for accuracy and versatility.
Subscribe to the Gun Digest email newsletter and get your downloadable target pack sent straight to your inbox. Stay updated with the latest firearms info in the industry.