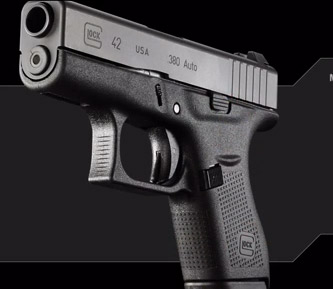 When it comes to generating chatter in the gun community, few things can get jaws jacking like Glock. The Austrian-based manufacturer has a large fan base, always champing at the bit over what the company plans to introduce next. And perhaps as of late, no two handguns have produced more chatter than the new Glock 41 and 42.
Glock 41

The Glock 41 is the company's answer to those who have wanted its take on a longslide .45 ACP. As Massad Ayoob points out in the video below, the Glock 41 is an amalgamation of features of the company's other pistols. It has the similar frame to the Gen 4 Glock 21, with the slimmer slide of the practical/tactical Glock 34 and 35.

Glock 41 Specifications
Overall length: 8.9 inches
Width: 1.28 inches
Height (with magazine): 5.47 inches
Barrel length: 5.31 inches
Length of twist: 1:15.75 inches
Pistol weight without magazine: 24 ounces
Magazine weight full: 12 ounces
Standard trigger pull: 5.62 pounds
Magazine capacity: 13 rounds
---
Glock 42

Glock fans have been after the company to produce a pocket-sized pistol for years. What the manufacturer has come up with, however, has already stirred the pot. Many expected the Glock 42 to be a single stack 9mm, instead the company chambered the pistol in .380 ACP.
According to Massad Ayoob in the video below, the reason why Glock went with .380 for the 42 was shootablity. The .380 gives the shooter more control and offers less recoil than a 9mm of the same size. As Ayoob points out, these are assets for someone with small or arthritic hands.
The Glock 42 is the smallest pistol the company has ever produced. Despite its petite size compared to its cousins, it is rather bulky in relation to other .380 ACPs. The Ruger LCP and Kahr P380, to name two, are much more diminutive in comparison. There is speculation the .380 will be a stepping stone in offering the Glock 42 in 9mm. But at this point that is little more than conjecture.
On a side note, this is not the first .380 Glock has produced. The Glock 25 and 28 are both chambered .380, but have only been available to law enforcement agencies.

Glock 42 Specifications
Overall length: 5.94 inches
Width: 0.94-inch
Height (with magazine): 4.13 inches
Barrel length: 3.25 inches
Length of twist: 1:9.84 inches
Pistol weight without magazine: 12.35 ounces
Magazine weight full: 2.01 ounces
Standard trigger pull: 5.62 pounds
Magazine Capacity: 6+1
---
Recommended Glock Resource