Swarovski has long held a revered place in the optics industry, with the company's name being synonymous with quality for many years. One of the brand's more recent introductions was its impressive X5i riflescope, a dedicated optic for long-range hunters and shooters.
Now, Swarovski has followed up with the Z8i, a new riflescope tailor-made for hunters. The new scope is available in four different models, with magnifications ranging from 1x up to 18x depending on the model.
The new Swarovski Z8i features a slimmer and more low profile housing for the illumination and comes equipped with Swarovski's BTF Ballistic Turret Flex, which is an independent turret that can be removed or swapped out with another turret. This allows the shooter to plug the relevant ballistic information into Swarovski's online ballistic tool and then swap out turrets as needed when switching calibers.
As with all Swarovski scopes, the new Z8i uses quality glass and is ruggedly constructed. It uses a 30mm tube construction and offers exceptional 93 percent light transmission.
Gun Digest recently caught up with Dean Capuano of Swarovski during the 2016 NRA Annual Meeting and Exhibits to learn more about this great new riflescope line. Watch the video above to get the firsthand look at this great new optic.
---
Recommended: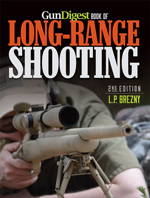 Gun Digest Book of Long-Range Shooting, 2nd Edition
Get the most recent advances in guns and gear to extend your range for hunting, informal target shooting, and formal competition. Discover new tools for long-range shooters both in the field and on the firing range, with coverage of new developments from advances in military applied combat theory. Learn more