Swagger Bipods offer both flexibility and rigidity when needed, enhancing the shooter's accuracy in the field in virtually any condition or environment.
Traditionally, there has been a tradeoff when it comes to bipods. With a typical bipod or shooting implement, stability comes at the cost of flexibility and movement after you've established a shooting position. Pulling a double on a coyote hunt could be a tricky proposition with conventional bipods, unless the dogs come running on exactly the same line.
Swagger Bipods has solved much of this problem with its innovative and adaptable new shooting system. The solid, yet flexible bipods are engineered to adjust to any shooting environment and move from target to target while at the same time always providing the utmost stability for the shot.
The heart of the Nebraska-based manufacturer's lightweight bipods is what the company calls its Crazy Legs Technology. Attached to the base via a shock cord, the spring-loaded system affords play on both the horizontal axis and the vertical, opening up shooting angles that were considered impossible with conventional bipods. And telescoping legs modify to a shooter's circumstances and position, whether he find himself prone on the floor of sagebrush flats or sitting on an uneven, rocky ridgeline.
Gun Digest Editor-in-Chief Eric Conn has had plenty of experience with Swagger Bipods, at the range and in the field, and has found them a worthy addition to his shooting gear. He goes over the finer points of this well-thought-out system in the above video, giving shooters a better idea of exactly how Swagger Bipods are capable of enhancing almost any hunt.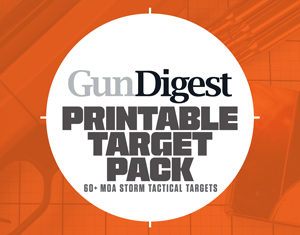 🎯 Exclusive Offer: Get Your FREE Printable Target Pack!
Dive into precision shooting with our 62 Exclusive MOA Targets featuring DOT Drills. Perfect for both rifle and handgun enthusiasts, these targets are designed for accuracy, especially for long-range shots.
Why You'll Love This Pack:
🎯 Expertly Crafted: Brought to you in partnership with the renowned Storm Tactical.
🎯 Versatile Use: Suitable for both rifle and handgun range sessions.
🎯 Precision Design: Target grids and bullseyes meticulously measured in MOA for the best shooting experience.
Bonus: By grabbing this offer, you'll also be subscribing to the Gun Digest email newsletter, keeping you updated with the latest in the world of firearms.
Don't miss out!
Simply enter your email below, and we'll send your downloadable target pack straight to your inbox.