Kimber and Zeiss are aiming to get shooters on target quickly with their new partnership. The companies are offering package deals of Kimber rifles and Zeiss optics.
Buying a top-notch rifle is typically only half the task. Matching it up with an equally outstanding optic is usually a must to tackle most shooting situations.
A recent partnership, however, has made mating firearm and scope a bit easier. Carl Zeiss Sports Optics and Kimber Manufacturing are teaming up to provide shooters a fairly solid shooting system — particularly for hunters.
Zeiss has outfitted two models of its Conquest HD5 scopes to match up with the Optifade camouflage patterns found on Kimber's popular Mountain Ascent and Adirondack rifles. The rifle-optic combination appears to be ideal for those who push deep into the backcountry, given the scopes' power and the rifles' lightweights.
Zeiss' Conquest HD5 scopes are available in two powers, 2-10×42 and 3-15×42. The variable-power optics should provide more than enough magnification for nearly any conceivable shot a hunter is likely to make.
Aiding in keeping the system under wraps, the scopes come in two camouflage patterns specific to the rifles it will operate atop. The Mountain Ascent has the rocky light colored Open Country pattern, while the Adirondack comes in the darker and shadowy Elevated Forest configuration.
The rifles themselves are variations of Kimber's 84 line and come decked out with a number of extras. Both the Mountain Ascent and Adirondack have match-grade chambers, stainless-steel barrels and adjustable triggers.
The most notable aspect, in both rifles' cases, is the stock. The Mountain Ascent and Adirondack are each outfitted with Kevlar/carbon-fiber stocks, which is the key in each rifle's featherweight. The rifles run from 4 pounds 13 ounces to 5 pounds 5 ounces, depending if it's a medium or long action.
The Conquest HD5 scopes are available exclusively through Kimber's store and can be purchased as a standalone item. Presently, the 2-10×42 runs $979.99, while the 3-15×42 is priced $1,199.99. At the time of writing, pricing was unavailable for rifle-scope packages.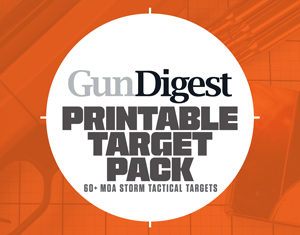 Next Step: Get your FREE Printable Target Pack
Enhance your shooting precision with our 62 MOA Targets, perfect for rifles and handguns. Crafted in collaboration with Storm Tactical for accuracy and versatility.
Subscribe to the Gun Digest email newsletter and get your downloadable target pack sent straight to your inbox. Stay updated with the latest firearms info in the industry.