Vero Vellini has made a name for itself the past two decades, producing comfortable handcrafted slings for hunting. Now the German company looks to do the same for tactical gear, with its Vero Tactical Two-Point Adjustable Sling.
Vero Vellini slings have become a fixture from the African veldt to the flooded timber of Arkansas. Now, the German manufacturer has its sights set on a different shooting segment.
The company launched its Vero Tactical line at the 2014 SHOT Show and should get modern sporting rifle fans and tactical operators chattering with its newest sling. The Vero Tactical Two-Point Adjustable Sling will attempt to earn its share of admirers combining versatility and comfort in one package.
The sling is constructed with textile webbing for long-lasting durability and is outfitted with the company's proprietary closed-cell padding. All the sling's components are synthetic, so inclement conditions have no effect on its performance and there is no possibility of corrosion over the long haul.
The Vero Tactical Two-Point Sling allows users to quickly, quietly and easily transition from a comfortable inverted-high-chest-carry position to any shooting position. By simply pulling out on the tethered-loop-release buckle the sling's tension is released and the firearm can be moved into position.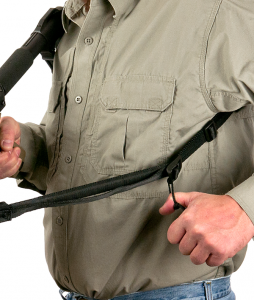 The Two-Point Sling can be attached on either end to a 1-inch or larger sling swivel, or it can be wrapped around a standard collapsible AR-style stock.
It allows more than 24 inches of adjustment, in turn a firearm can be worn over anything from a T-shirt to body armor plus several layers of clothing.
The Vero Tactical Two-Point Sling fits all platforms from the ultra-short AUG bullpup through the full-length AR-10 semi-automatic rifles, as well as many bolt-action rifles. A wrap-style sling keeper retains the excess webbing on shorter rifles.
The Vero Tactical Two-Point Sling will be available in March in either solid black or black with an olive-green padding cover. Suggested retail price of the Vero Tactical Two-Point Sling is $64.99.
---
Recommended AR Resources
Gun Digest Shooter's Guide to the AR-15
The Gun Digest Book of the AR-15
Gunsmithing the AR-15 Volume 2