The Sako 85 Carbonlight is the company's lightest rifle and is now available in the US.
Sako has built a dedicated following on both sides of the Atlantic for some obvious reasons.
The Finish subsidiary of Beretta has become well known for producing a superior rifle that doesn't break the bank. And recently, it has unleashed one of its newest creations on America.
Sako 85 Carbonlight is now available on this side of the pond, after being introduced on the other earlier this year. And the new addition to the company's largest line definitely has potential to turn heads, particularly in the backcountry-hunting crowd.
What could make the bolt-action rifle such a hot commodity with these shooters is its incredible lightweight. The Carbonlight tips the scales just a hair over 5-pounds, 5.3 to be exact.
This is, by far, the lightest rifle Sako produces, a function of Sako turning to some futuristic material for the gun's stock. As its name implies, the new 85 uses a lightweight carbon fiber (actual carbon fiber) for its stock.
Shaving precious pounds without touching the metal components is one befit of the stock material. The other is it should make the new 85 pretty dang rugged, a big plus for a rifle destine for deepest wilderness.
The 85 Carbonlight will come in five calibers (.22-250 Rem., .308 Win., .260 Rem., and 7mm-08 Rem.) that should cover most medium-sized North American game. And like the other rifles in the line, it will have a receiver length to match its cartridge. Sako utilizes six different receiver lengths to ensure consistent and predictable cartridge chambering.
The rifle is outfitted with a 20-inch cold-hammer-forged barrel that has been fully free floated in the stock. The barrel is fluted and features a hand-cut target crown, an attribute that will protect the accuracy of the rifle.
The 85 Carbonlight's bolt is milled from one solid piece of steel and has three locking lugs. And like all rifles in this line, the new 85 has a claw extractor, which should win points with traditionalist.
The rifle has a five-round detachable magazine, an integral rail dovetail scope mount and two-position safety. No MSRP was available on the rifle, but it has been reported it will retail around $3,000.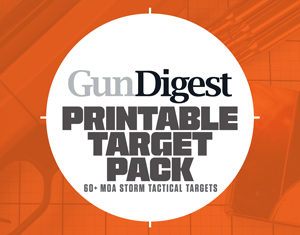 Next Step: Get your FREE Printable Target Pack
Enhance your shooting precision with our 62 MOA Targets, perfect for rifles and handguns. Crafted in collaboration with Storm Tactical for accuracy and versatility.
Subscribe to the Gun Digest email newsletter and get your downloadable target pack sent straight to your inbox. Stay updated with the latest firearms info in the industry.