There's nothing more American than guns and horsepower, both of which were on display at a recent event at Gunsite Academy in Arizona. Yamaha brought its 2017 Wolverine R-Spec Special Edition (SE) and Grizzly SE, while Ruger showcased its brand-spanking new American pistol in 9mm and Predator rifle in 6.5 Creedmoor. We'd be testing both rides and Rugers over three days at Col. Jeff Cooper's old stomping grounds, a perfect recipe for one hell of a good time.
The Guns
Ruger has been in the semi-auto pistol game for a long time, but this year it entered the striker-fired, polymer handgun race with the introduction of the American pistol. The original introduction was a full-size 9mm, which is what we tested at the range, though more introductions are soon to follow, including other popular calibers and compact models in the coming year.
The 9mm version we test drove on the Gunsite ranges was designed for duty, appealing to the law enforcement and personal defense markets. Over the course of three days, I had no malfunctions, and paired with Prime ammunition, the pistol was impressively accurate. I went into the event asking myself if it would stack up to other  famous polymer pistols, and it certainly does; I'd even say I like the ergonomics much better than many other well-known makes.
The modular grip system allows you to swap out different modules to accommodate hand size, though the standard grip worked great for me and was incredibly comfortable. I'm also a fan of the moderate beaver tail design, which allows you to get a firm purchase on the handgun from the holster without worrying about slicing yourself on the slide. I shot several hundred rounds with no soreness and sustained accuracy.
The Novak LoMount Carry 3-dot sights also help in that regard, striking the perfect balance between effectiveness in rapid, defensive shooting and longer-range marksmanship. I'm still hearing the instructor's words in my sleep: "Front sight! Trigger press!"
We cleared buildings and faced off in a friendly competition against steel targets with the American pistol, exposing weaknesses in our shooting mechanics but not the Ruger. With Galco holsters and belts it makes for a quick draw, and the trigger is consistent—not great, but exactly on par with what you'd find in a duty-grade pistol like a Glock or similar striker-fired model.
At the long range we tested the new Predator American rifle in 6.5 Creedmoor, one of the hottest chamberings to come around in a long time. Paired with Leupold's new VX-3i scope, we were smacking steel out to 1,000 yards with relative ease. Although the American rifle isn't new, the green predator model and Creedmoor pairing are. On the rifle you'll find the same great features as prior models, including Ruger's adjustable Marksman trigger, which can be set between 3-5 pounds. In tandem with Prime ammunition, the rifle delivered consistent, dead-on results on steel.
The Horsepower
The only thing that makes a few days of shooting better is a sweet ride with lots of power. Yamaha delivered on two fronts, bringing along the Wolverine R-Spec side-by-side and Grizzly ATV, both 2017 Special Edition models. The machines feature the same motor, four-wheel-drive systems and Ultramatic V-belt transmission system. Unlike some belt-driven machines, there's no need to worry about going too fast in low or too slow in high—Yamaha's belt and 4WD system are built to take whatever pounding you can throw at them.
Both machines feature Yamaha's 708cc, liquid-cooled four-stroke engine, which puts out roughly 70 horsepower. Combined with outstanding 4WD and high/low ranges, either machine can tackle virtually any terrain. As a Western hunter and shooter living in the Rocky Mountains, that's music to my ears. Whether you're lugging your gear out to the 1,000-yard range, hauling hay at the ranch or tracking down a monster bull in timber country, the Wolverine R-Spec and Grizzly can get the job done. We saw as much driving through the high desert country of Arizona, where both machines conquered the 5,000-foot terrain with ease.
During one of our rides we took the machines down into a wash, at which point the Wolverine got to shine. I didn't see any way ahead of us by which we could climb out of the wash, but I was proven wrong when one of the riders climbed a 15-yard side hill, floored it and crawled easily up and over the muddy rim. Not only was it a moderately aggressive incline, it wasn't a straight shot, so the suspension and balance of the machine were put to the ultimate test. In the real world it's kind of a pass/fail deal, and the Wolverine passed with flying colors.
Prime Time
Fairly new to the shooting scene is Prime Ammunition, which has been around for a while, though by a different name and primarily in Europe. We relied on the company's ammo for rifle and pistol work all week, and it performed exceptionally well. Prime is the American branch of a Swiss company that manufacturers ammunition to the world's highest standards, at unbeatable prices.
I first heard about the brand through a couple of long-range competition buddies, who swear by the stuff and have even used it in place of handloads—that's how amazingly accurate (and affordable) it really is. After three days firing the ammo, I'm a believer. It's well made, consistently accurate, and I had no ammunition issues in either rifle or handgun applications even after hundreds of rounds. It was the perfect addition to an already fantastic event.
Editor's Note: This article is an excerpt from the September 2016 issue of Gun Digest the Magazine.
---
Recommended: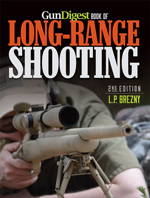 Gun Digest Book of Long-Range Shooting, 2nd Edition
Get the most recent advances in guns and gear to extend your range for hunting, informal target shooting, and formal competition. Discover new tools for long-range shooters both in the field and on the firing range, with coverage of new developments from advances in military applied combat theory. Learn more