Paired with the 22 Nosler, the Nosler/Noveske Varmageddon is a rifle designed to precisely knock the stuffing out of any varmint unlucky enough to end up in its crosshairs.
What the Nosler/Noveske Varmageddon in 22 Nosler Brings to the Table
Chambered in the powerful 22 Nosler, the Nosler/Noveske Varmageddon brings break-neck velocities to the AR platform.
Upon testing, the Varmageddon lived up to its billing, pushing 55-grain projectiles better than 3,000 fps on average.
The rifle and ammunition were a match made in heaven when it came to accuracy, repeatedly printing sub-MOA groups at 100 yards.
The Varmageddon is built to excel at precise work, boasting a crisp-breaking Geissele SD-E Trigger and highly adaptable Magpul PRS stock.
While comparable to a lengthened and necked down 6.8 SPC, the proprietary 22 Nosler is a breed of its own.
Tempting as it might be, the 22 Nosler is not compatible with the AR's presently chambered 5.56 NATO/.223 Rem.
Already a dynamite choice for varmints and predators, given the choice of heftier projectiles, the Varmageddon in 22 Nosler could be a medium-game option.
At the 2017 SHOT Show, the shooting sports industry's largest trade show, Nosler introduced its newest round, the 22 Nosler. Nosler claimed this new round was the fastest, most powerful .22-caliber centerfire round available that would reliably feed and function in the AR — capable of pushing a 55-grain Nosler Trophy Grade bullet at 3,350 feet per second (fps) from an AR-15 fitted with an 18-inch barrel, and a 77-grain Match Grade competition bullet at 2,950 fps. At nearly 300 fps faster than a standard .223 Remington/ 5.56 NATO, the 22 Nosler delivered 30-percent more energy than either round.
A few months later, Noveske Rifleworks, of Grants Pass, Ore., and working in conjunction with Nosler, debuted a new version of its Varmageddon AR rifle, offering it in, yes, 22 Nosler.
A new round and a new rifle. It was a combination begging to be tried out, and that's exactly what I did recently, matching a new-in-the-box Varmageddon with both the 55-grain and 77-grain versions of the 22 Nosler ammunition. I topped the rig with another relative newcomer to the shooting sports, a Trijicon AccuPower 1-8×28 scope.
Results? Impressive. As advertised, the new 22 Nosler is an FPS screamer. It's also very accurate. At the same time, the 22 Nosler Varmageddon rifle is a pleasure to shoot, has a fine trigger and feels great on the shoulder.
Range Time
At my local outdoor shooting range, I zeroed the Varmageddon at 50 yards using the 55-grain Trophy Grade round, shooting from a sandbag rest. Then, I took on targets at 100 yards. Right from the start, I was very impressed with the accuracy achieved from this scope/rifle/round combination.
With the 55-grain round, my best three-shot group was .433 inch, my best four-shot group was .623 inch, and my best five-shot cluster came in at .940 inch. The 77-grain Match Grade load did fine, too, with groups of .681 and .609 inch for three- and four-shot groups, respectively. And I actually punched six shots into a 1.00-inch group!
That .681-inch three-shot group, by the way, was done with my very last three shots. At that point, the rifle had seen over 200 rounds through it, and, even with a cool-down period midway through, the barrel was hot enough to blister the skin. And it was still shooting sub-MOA!
Then, I chronographed both rounds using my PACT Professional XP Chronograph from Brownells. Firing 10 rounds of each, the 55-grain Trophy Grade locked in at an average of 3,308.2 fps, and the 77-grain Match Grade averaged 2,815.3 fps. That put the 55-grain load within 48 fps of Nosler's stated velocity, and within 135 fps of the velocity for the 77-grain bullet.
One Sweet Shooter
Working with Nosler, Noveske introduced its first Varmageddon rifles several years ago, chambering them in the most popular varmint cartridges, including .223. The Noveske Varmageddon in 22 Nosler makes the above-cited accuracy easier to achiever than a lot of similar AR's, and it all starts with the trigger. The two-stage Geissele. SD-E Trigger is extremely smooth, with a 2.2-pound first stage, followed by a 1.11-pound pull to actually fire the rifle. It resets quickly, too.
The Varmageddon's Magpul furniture is comfortable and looks good, too. The PRS stock is easy to adjust for length of pull, cant and comb-height. It even sports two short picatinny mounting points along the bottom read edge of the butt for use of a monopod. The MOE Grip provides a hand-filling, tactile feel, with a built-in storage compartment.
The ambidextrous safety is easily operated with one thumb, and the magazine release ejects the magazine with authority. The Noveske Super Bad Ass Charging Handle is also one of the easiest and most functional charging handles I have ever used, and it greatly decreases the chances of short stroking the handle and creating a feeding malfunction.
The only problem I can see with the Varmageddon is its weight. All by itself, the rifle tips the scales at 10 pounds. Add a scope, mounting hardware and ammunition, and you are probably at 11.5 pounds. For a bench shooter taking on a field of prairie dogs, that weight is no big deal. Yet for the varmint or predator hunter who does a good deal of hiking in search of prey, 11 or 12 pounds can be a real load. He or she will want to invest in a solid two-point sling and a good set of shooting sticks before taking the Varmageddon afield.
A Whole New Animal
The magazines for the 22 Nosler are actually standard 6.8 Remington SPC magazines. So, does that mean the 22 Nosler is a reconfigured 6.8 SPC round?
Not so, said Mason Payer, Nosler's marketing manager.
"Really, there is no parent cartridge," said Payer. "The 22 Nosler is its own animal. The closest design which could be claimed is a 6.8 Rem. SPC that has been lengthened, necked down to .22 caliber, given a 30-degree shoulder and had the rim rebated to 0.378 inches. Or, you could say it is a .30-30 Winchester that has been shortened, necked down to .22 caliber, given a 30-degree shoulder and had the rim rebated to 0.378 inches."
He added, "In the end, it's easier to say it is what it is: a new cartridge!"
The Varmageddon is the first complete rifle available in 22 Nosler, but it certainly won't be the last. Payer noted that at least 10 rifle makers are currently working on complete rifles chambered in 22 Nosler, and even more gun makers are producing 22 Nosler uppers.
I suspect some rifle makers are currently designing — if not actually manufacturing — 22 Nosler bolt actions, too. While the 55-grain ballistic tip bullet leaves an 18-inch AR barrel at an extremely fast 3,300 fps, the same round in a 24-inch barrel rockets out at an amazing 3,500 fps. Similarly, the 77-grain target round is rated at 3,100 fps with that 24-inch barrel, an increase of a good 200 fps from the 18-inch barrel.
For those shooters who love speed — and there are many, many of us — harnessing that 3,500 fps will be very attractive, and a bolt action will likely be the way to go.
Making the Transition
If you already own an AR-15 in .223 Rem./5.56 NATO, you might be tempted to tinker with your rig to make 22 Nosler work. But do not try this! As Payer stressed, you can't simply open up a .223 Remington chamber to fit 22 Nosler specifications. The shoulder of the 22 Nosler was set back to a slightly shorter dimension than the .223 Remington to prevent the .223 Rem. from being accidentally chambered in a 22 Nosler.
"Because of this, in order to convert a .223 Remington AR-15 barrel to 22 Nosler, you would need to remove the barrel extension, set the barrel back one turn, re-chamber the barrel to 22 Nosler, and then reinstall the barrel extension while keeping the gas port precisely at the 12 o'clock vertical position," Payer said. "Realistically, this would require the services of a qualified gunsmith."
It's much safer and cheaper to simply invest in a 22 Nosler upper, swap out that upper with your existing AR-15 and then buy a few 6.8 SPC magazines.
Currently, the only ammo choices are the 55-grain Trophy and the 77-grain Match rounds, both of which are made by Nosler. The company also will be introducing other 22 Nosler ammo options in 2017. Expect other manufacturers to begin offering their own versions of the ammunition, too.
For reloaders, Nosler offers 22 Nosler brass and bullets. Reloading information can be found at 22Nosler.com.
Parting Shots


Whether or not the 22 Nosler is going to set the AR World on fire is unknown. But a very fast round that can reach out at long distance, and is damned accurate, will certainly find a home with many shooters.
The 22 Nosler would seem to have potential hunting applications for medium-sized game, too. Nosler currently manufactures a 90-grain Ballistic Tip Hunting Bullet in 6mm. If Nosler took its 77-grain load and reconfigured the bullet into a Ballistic Hunting Tip? Hunters would have a round quite capable of taking down deer-sized game, opening up the 22 Nosler to even more shooters.
Editor's Note: This article is an excerpt from the July 2017 issue of Gun Digest the Magazine.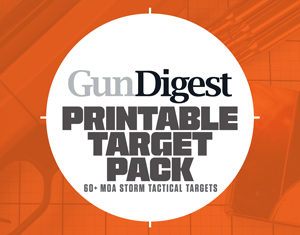 Next Step: Get your FREE Printable Target Pack
Enhance your shooting precision with our 62 MOA Targets, perfect for rifles and handguns. Crafted in collaboration with Storm Tactical for accuracy and versatility.
Subscribe to the Gun Digest email newsletter and get your downloadable target pack sent straight to your inbox. Stay updated with the latest firearms info in the industry.