Hatsan has made a name for itself as an accurate option in air guns. And the Turkish company's new air pistol should help shooters stay on target with the addition of a removable, adjustable stock.
Typically, when shooters think about high-powered air guns one thing comes to mind – rifles. But Hatsan USA has worked to change that perception with their line of pre-charged pneumatic pistols.
The Turkish manufacturer's PCP handguns are nearly as potent as the company's line of powerful air rifles. And HatsanUSA recently has given shooters another option with the expansion of its pistol line.
The company is now shipping its AT-P2 air pistol, a more versatile model of HatsanUSA's AT-P1. The main modification on the new air pistol is the inclusion of an extendable stock, giving shooters the ability to place more precise shots off the pistol platform.
The telescopic stock can be adjusted to fit nearly any shooter and comes outfitted with an adjustable cheek rest. From there, the air pistol retains all the features that made its predecessor popular.
The AT-P2's PCP power system ensures consistent accuracy, utilizing a 50cc air cylinder with 200-bar fill (3000 PSI). The pressure allows the air pistol to shoot pellets at velocities as high as 870 fps, making it ideal for plinking or the taking of small varmints.
Like all of HatsanUSA's guns the AT-P2 comes outfitted with a Quattro Trigger. The proprietary two-stage match trigger offers three-point adjustment to control the trigger load, the position of the first and second stages and the length of travel – all while maintaining full sear engagement.
The air pistol has a precision rifled barrel made from German steel and is available in three calibers: .177, .22 and .25. The .177 and .22 models come with 10-round magazines, while the .25 has a nine-round magazine. The AT-P2 is fitted with a dovetail grooved receiver for both 11mm and 22mm scope mounts and micro-adjustable rear and front sights, both with TRUGLO fiber optics.
It also features an anti-double pellet feed system that prevents more than one pellet from loading into the barrel and Hatsan's patented anti-knock system to prevent gas wastage in case the airgun is knocked or bounced.
The MSRP of the AT-P2 is $720.00. It includes one additional magazine, detachable air cylinder with a built-in pressure gauge, quick-fill nozzle and air cylinder discharge cap.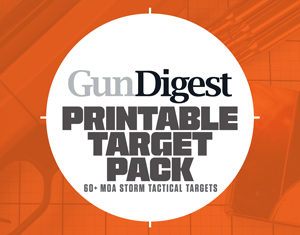 Next Step: Get your FREE Printable Target Pack
Enhance your shooting precision with our 62 MOA Targets, perfect for rifles and handguns. Crafted in collaboration with Storm Tactical for accuracy and versatility.
Subscribe to the Gun Digest email newsletter and get your downloadable target pack sent straight to your inbox. Stay updated with the latest firearms info in the industry.