TriStar Hunter EX LT is a light, affordable and functional over-and-under shotgun. The 12 gauge has everything you're looking for in a field gun.
For a number of shooters, to own a shotgun with the balance, clean lines and classic styling of a quality over/under shotgun remains mostly a dream due to their usual high price tag. TriStar's Hunter EX LT (the LT is for lightweight) may change all of that with an MSRP of under $700.
The imported 12-gauge shotgun is chambered for 3-inch shells and is made of 28-inch steel mono-block chrome-lined barrels set on a stock of Turkish walnut with a soft semi-gloss finish. Stock and barrel come together at an aluminum alloy receiver for reduced weight that is reinforced with steel inserts for added strength.
The action locks up tightly with self-adjusting locking lugs for a sealed effect that keeps dirt and grime out. Selecting which barrel you want to fire first, as well as the safety, are all controlled from a single top tang switch.
Other features include extractors for quick shotshell removal and reloading, a ventilated top and mid rib, a fiber optic front bead sight, a single selective trigger and engraved receiver. The 6.8-pound Hunter model comes with five Beretta/Benelli-modeled choke tubes of Skeet, Improved Cylinder, Modified, Improved Modified and Full. ($659; www.tristararms.com)
This article appeared in the February 11, 2013 issue of Gun Digest the Magazine.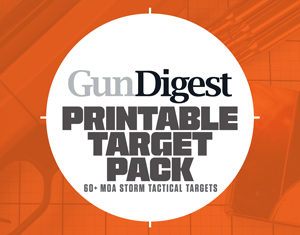 Next Step: Get your FREE Printable Target Pack
Enhance your shooting precision with our 62 MOA Targets, perfect for rifles and handguns. Crafted in collaboration with Storm Tactical for accuracy and versatility.
Subscribe to the Gun Digest email newsletter and get your downloadable target pack sent straight to your inbox. Stay updated with the latest firearms info in the industry.