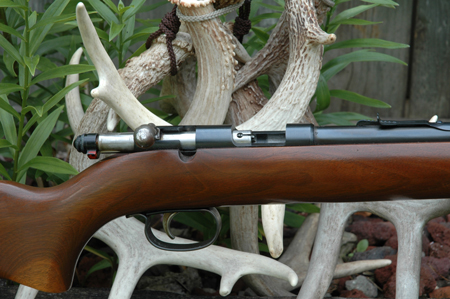 The sparrow slayer of the author's youth gets a second look with the eyes of experience. M.D. Johnson reviews the Remington Model 514, a sweet little .22 LR rifle.
WHEN I WAS 13 or 14 – NOTE: For you mathematicians, the years would have been 1977 or '78 – my Slovak grandparents moved from the family farm, which like many in northeastern Ohio had been swallowed by progress, onto a much smaller parcel some 10 miles to the north and west. Always the farmer, Dzedo, Slovak for grandfather, put the back 14 acres into sweet corn, with a huge family garden on the side. "M.D.," he told me often, "you're in charge of keeping the birds out of the corn, especially those damned sparrows."
I took my avian eradication responsibilities very seriously, a task made much simpler due to the fact that thanks to my father, Mick, I had access to quite the arsenal of English sparrow-sized firearms, including such fine pieces as a Harrington & Richardson .410 single-shot, a similar single in 20-gauge, and a Fox B Grade, also in 20-gauge.
But despite this wealth of wonderful weaponry, all of which performed quite admirably on sparrows, as well as the occasional starling, crow, and passing pigeon, I had quite the unusual favorite field gun; unusual, at least many would think, for the task at hand.
On permanent loan from my Mother's brother, Neal, the little single-shot .22 caliber bolt action seemed a tad out of place along the edges of Dzedo's cornfield. However, when primed with CCI's .22 Long Rifle shotshells, each tiny blue-tipped cartridge containing 31 grains, or 0.07 ounces, of #12 shot, the rimfire became quite the sparrow eliminator – all at understandably close range, to be sure.
This need for proximity, however, did, I believe, assist in my education and improvement as a hunter; that is, I soon learned the importance of stealth, patience, timing, and other qualities vital for success afield. Was I stalking a full-curl Dall sheep on a shale slope at 5,500 feet elevation? Literally, no. Still, to a 13-year-old charged with protecting the whole of northeastern Ohio's sweet corn supply, my adventures were no less exciting.
Technically Speaking
Although at my then-young age only moderately interested in variables such as make and model, I was aware the little bolt action was a Remington product. Today, I, along with the sporting community, recognize the piece as a Remington Model 514. According to the Firearms History on the company's website – NOTE – If you haven't discovered these pages, I highly recommend them – this particular piece was manufactured from 1948 through 1970, during which time approximately 757,000 were made.
The rifle, as mentioned earlier, is a single-shot bolt action of .22 rimfire, capable of handling Shorts, Longs, and Long Rifle rounds. Here, and at great risk of offending fans of the piece, I'll say the M514 might best be described as extremely basic; however, that was Remington's intent, as the rifle was brought into play to compete with similarly elemental and inexpensive rimfires from Stevens, Savage, and others. At introduction, the M514 set the buyer back the princely sum of $14. Today, the same model can range from $75 to $150, depending, of course, on condition.
In keeping, I'm assuming, with the budget-mindedness surrounding this particular rifle, the M514 features a one-piece walnut stock, Old School though adjustable iron sights, solitary extractor, and a single takedown screw nicely recessed 2.5 inches ahead of the trigger guard. A rotating safety is located at the rear of the bolt. With the bolt closed, twisting a knurled end-piece clockwise swings a black stud to the 10 o'clock, or SAFE, position; counterclockwise, and a red stud at 4 o'clock indicates the OFF SAFE condition.
Again, I'm sure, for the frugal, the M514's receiver is non-grooved, and thus wasn't out-of-the-box ready for glass optics. Some owners had the receiver drilled and tapped for readily available Weaver-style mounts; others, not wishing to modify the gun as such and perhaps lower its collector value, opted to stay with the standard iron sights.
My Personal Report Card
As I wandered through my teenage years, corn-nibbling English sparrows were eventually replaced by fox squirrels. And here, the M514 proved outstanding, a status it holds to this very day. Light at just a smidge over 4.5 pounds, the little rimfire was a joy to carry as I stalked among the towering hardwoods of my native Ohio. Certainly, it would have been a simple matter to drill the stock for sling swivels; however, like adding a scope, such an act of customization seemed rather sacrilegious. Or at least it did to me.
Overall, I'm quite pleased with the M514, particularly given the fact Grandpa Verity probably gave less than $20 for the rifle back in the early 1950s. The iron sights, earlier described as Old School, are indeed just that; however, I had no problem printing a .875-inch (horizontal) by 1.375-inch (vertical) 10-round group at 25 yards with Winchester's Wildcat 40-grain cartridges – and this from a man who's been sporting full-time prescription glasses for less than a month now. Aesthetically, the rifle, at least to me, epitomizes the traditional affordable .22 rimfire in a package combining basic beauty, simplicity, and more than acceptable accuracy.
Are there negatives? Myself, I don't cotton much to the bolt-mounted rotating safety. It's – and I may be nitpicking here – a bit inconvenient in terms of ease of operation; not impossible, but not nearly as handy as either the cross-bolt or right-receiver thumb styles.
And as for the trigger, while the pull itself isn't atrocious, the amount of creep is, to stay kind, extraordinarily significant. Still, shooters have somehow managed to squeeze satisfactory groups out of their M514s for the past 62 years, and Lord knows how many bushytails have been harvested by hunters packing this popular Remington rimfire. Oh, and lest we forget, English sparrows, too.
This article appeared in the August 30, 2010 issue of Gun Digest the Magazine.
Remington Model 514 Specs
Caliber – .22 Short, Long, and Long Rifle
Action – Bolt
Magazine type – None
Overall length – 41.5 inches
Weight – 4.13 pounds
Barrel length – 23.625 inches
Stock length – One-piece; 27.75 inches
Trigger – 5.13 pounds (average of three)
Pad – Thin (.375) hard plastic, black; checkered; circled Remington logo
Sights – Step-style (ramp) adjustable for elevation rear; dovetailed blade/bead front
Wood–Walnut
---
NEXT STEP: Download Your Free Storm Tactical Printable Target Pack
62 Printable MOA Targets with DOT Drills - Rifle Range in YARDS
This impressive target pack from our friends at Storm Tactical contains
62 printable targets
for rifle and handgun range use. Target grids and bullseye sizes are in MOA. Ideal for long-range shooting!
Subscribe to the Gun Digest email newsletter and we'll send your print-at-home target pack right away.
Just enter your email address below.
---