Swarovski Optik of Austria continues to set the standard for high-end binoculars, rifle and spotting scopes. Here are five Swarovski optics that will change the way you look at the world.
I remember the very first time that I ever used a pair of Swarovski binoculars. I was camped in Etosha National Park in Namibia, and on the edge of that campsite was a waterhole that was illuminated at night so visitors could view lions, hyenas, rhinos, zebras and other game as they came to drink. It was just after midnight in Africa, which was six o'clock in the evening where I'd come from in Ohio, and I couldn't sleep so I walked down to the waterhole, which was separated from the camp by a 15-foot fence. I had been sitting alone in the darkness watching a jackal drink and play at the water's edge for about five minutes when a group of European tourists, apparently also insomniacs, came out of the darkness and sat on the rocks next to me. One of them asked what type of binoculars I had, and I told her. Feeling the need to reciprocate, I asked her what she was carrying.
"Swarovskis," she whispered. "Have you used them?"
I told her I hadn't, and she extended the binos toward me. I was shocked at the level of clarity and light transmission. The jackal, which had been little more than a blob of fur and pointy ears in my binos, stood out in high-definition clarity — from its ruffled hair to its almond-shaped eyes and twitching black nose. Not long after that an elephant came in to drink, gliding silently out of the blackness, and using those Swarovski binos I could see every crease and wrinkle of its skin, the dimples on its trunk, even individual eyelashes.
Swarovski Optik was founded in Austria in 1949, and since that time, the company has remained one of the preeminent optic manufacturers in the world. Swarovski optics aren't cheap, but to those who understand the value of top-end glass, little else will do. Every element of the manufacturer's products, from materials selection to construction to fit and finish, is excellent. And, over the years, I have realized that it isn't just those with lots of disposable income who choose their products despite the price tag. Serious long-range shooters, professional hunters and wildlife biologists all spend a little extra cash because they want glass that provides the best clarity across a wide range of light conditions. Swarovski optics last for a lifetime, not a few years, and if you do encounter a problem, the company's customer service is as good as its optics.
So, what does this Austrian company offer for hunters and shooters? Lots, but here are a few of our favorite Swarovski optics. They aren't cheap, but gear of this quality never is.
Z8(i) Riflescope
The new Z8(i) line offers an impressive 8x zoom ratio and comes in four models (1-8×24, 1.7-13.3×42, 2-16×50, and 2.3-18×56). The 1-8 and 1.7-13.3 scopes feature the FLEXCHANGE 4A-IF interchangeable reticle that allows the shooter to customize the reticle by switching the illuminated ring around the center dot on and off with the touch of a button. This 30mm scope is also available with Ballistic Turret Flex (BTF), which can be configured for numerous forms of ballistic compensation correction. Additionally, the BTF system can be attached or removed without tools. The BTF comes with windage and elevation turrets, and it is available with optional Personalized Ballistic Rings (PBR) that offer yardage or MIL adjustments for all relevant hunting distances. Additionally, this superb scope offers an impressive 93 percent light transmission. (Around $2,500 and up; SwarovskiOptik.com)
EL Range Binoculars
The second-generation EL Range binoculars debuted in 2015, and they offer superb field of view and clarity combined with ranging capabilities that not only tell the range to the target but also the angle and calculate corrected length-to-target figures based on your position. The range button is easy to use, and a new, more ergonomic design with thumb depressions and rounded fins allows you to hold these binos steady for accurate measurements from 30 to 1,500 yards in the field. The new FieldPro package has bayonet attachments that allow you to adjust and switch the carrying strap and accessories quickly and silently in the field. Available in 8×42 and 10×42 configurations, these high-tech binos weigh just 31 ounces (10×42), packing world-class hunting and shooting technology into a lightweight optic. ($3,277; SwarovskiOptik.com)
X5(i) Riflescope
The X5(i) might be the most advanced long-range riflescope available. Aside from the ultra-clear glass, this 30mm scope offers 20 MOA of elevation adjustment per revolution and up to 116 MOA of adjustment for the longest shots. There's also a window that allows you to see what the revolution adjustment is set on, so there's no more guessing as to where the optic is set. Spring retention and lever systems exert equal pressure on both turrets from the inversion system regardless of positioning, and the elevation, windage and parallax turrets, as well as inversion system, are built from stainless steel components for a lifetime of hard use. Options include an illuminated reticle with 10 brightness settings and a second focal plane option with 1 or 2 MOA increments. Additionally, there's a clever SUBZERO setting that allows the shooter to instantly come down 10 MOA from the pre-set zero for close shots. The X5(i) is available in either 3.5-18×50 or 5-25×56 models. (About $2,800 and up; SwarovskiOptik.com)
STR 80 Spotting Scope
Whether you're on a once-in-a-lifetime mountain hunt or want the best spotting scope for making half mile-plus shots, the STR 80 has you covered. This scope comes with either an MRAD or MIL reticle with 15 illumination settings (10 day, 5 night), and there's an option to remove the reticle completely for an unobstructed view when scanning for game. The reticle adjusts with magnification changes to help make corrections on very long shots, and precise ¼ MOA or .1 MRAD adjustments help you get dialed in for precise shooting at all reasonable ranges. Plus, the outstanding clarity of this scope makes it easy to see hits on paper targets from extreme distances. This scope works with Swarovski 20-60x and the 25-50xW (wide) eyepieces, and the STR 80 will also offer three Picatinny rails and a winged eyecup, which can be purchased separately.
($3,732; SwarovskiOptik.com)
SLC Binoculars
The newest generation of Swarovski's time-tested SLC binos are now available in three configurations: 8×42, 10×42 and 15×56. With excellent HD glass and high-performance coatings, these binos give you a supremely crisp view in any lighting conditions, and they provide the contrast that serious hunters need in the field. The magnesium housing and comfortable grip surface make these binos easy to hold onto and tough enough to withstand the worst conditions in the world. They offer a wide field of view (408 feet at 1,000 yards for the 8×42 models), 91 percent light transmission, and they weigh as little as 28 ounces, combining durable precision in a lightweight package for the field. (Starts at $1,721; SwarovskiOptik.com)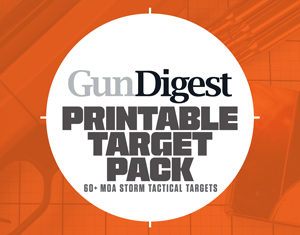 🎯 Exclusive Offer: Get Your FREE Printable Target Pack!
Dive into precision shooting with our 62 Exclusive MOA Targets featuring DOT Drills. Perfect for both rifle and handgun enthusiasts, these targets are designed for accuracy, especially for long-range shots.
Why You'll Love This Pack:
🎯 Expertly Crafted: Brought to you in partnership with the renowned Storm Tactical.
🎯 Versatile Use: Suitable for both rifle and handgun range sessions.
🎯 Precision Design: Target grids and bullseyes meticulously measured in MOA for the best shooting experience.
Bonus: By grabbing this offer, you'll also be subscribing to the Gun Digest email newsletter, keeping you updated with the latest in the world of firearms.
Don't miss out!
Simply enter your email below, and we'll send your downloadable target pack straight to your inbox.