Boasting a polymer jacket, Federal Solid Core ammo should prove an effective, affordable and clean hard cast option for handgun hunters.
How Federal Solid Core Stands Up To Other Hard Cast Options:
Deep-penetrating bullet built for tough game
Syntech jacket eliminates lead fouling and reduces friction
Available in popular handgun hunting calibers
As any dedicated handgun hunter will tell you, hard cast bullets are the way to go. Tough as rail stock, the lead alloy missiles endow ammunition with the key factor required to take down game with a sidearm—penetration. A fairly set formula, there seems little to be done to improve on the time-tested projectiles, yet Federal Premium found a way.
Fairly logically, the ammo-maker has extended its Syntech line of polymer-jacked ammunition with its hunting angled Solid Core addition. While the company doesn't tip its hand on the lead alloy it uses (most likely tin or antimony), it promises a hard bullet that won't break up or mushroom upon impact. In short, the stuff you want in your cylinder or magazine if a grizzly comes charging or an elk step out of timber within range.
The value add compared to other hard cast options is Federal's revolutionary polymer jacket that should make the Solid Core offerings cleaner to shoot and easier on your gun's bore. No wax rings or gas checks, so it should live up to its billing. Syntec certainly has in its other iterations—soft-core range and self-defense loads—as well as proving economical and accurate.
In the case of Federal Solid Core, the bullets are flat-nosed to improve energy transfer once they reach their target. Furthermore, the company is turning them out in some of the most popular handgun-hunting calibers as well as some others: .44 Rem. Mag., 10mm, .357 Mag., .45 ACP, .40 S&W and 9mm.
Presently, Federal hasn't released the box-side specs on Solid Core, but one would hope with their intended use they'd error toward hot. However, they do fall into the relatively affordable category for the class of ammo, ranging from $29 (9mm) to $40 (.44 Mag.) depending on caliber. News that should set hogs to shaking in their hoofs.
For more information on Federal Solid Core, please visit www.federalpremium.com.
---
On-Target Ammunition Information: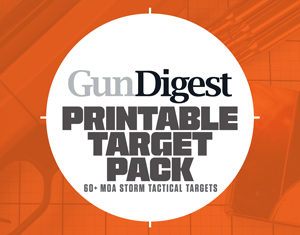 Next Step: Get your FREE Printable Target Pack
Enhance your shooting precision with our 62 MOA Targets, perfect for rifles and handguns. Crafted in collaboration with Storm Tactical for accuracy and versatility.
Subscribe to the Gun Digest email newsletter and get your downloadable target pack sent straight to your inbox. Stay updated with the latest firearms info in the industry.