Extending trigger time with your hunting iron, Browning introduces .350 Legend ammo tailormade for the range.
Do you need to live around the Great Lakes to give the .350 Legend a day in court? Most certainly not! Developed to conform to that particular region's quirky rifle-hunting laws does nothing to take away from the cartridge as a whole. Thick brush buck trackers and whole-sale hog hunters would do well to turn an eye to this stellar straight-walled option.
That said, no matter who picks up a .350 Legend iron getting handy with one became a world more affordable thanks to Browning. Headlining its range-ammunition roster for 2021, .350 Legend FMJ ammunition. Sounds sort of pedestrian, until you consider up to this point the market has been dominated with hunting rounds. Those might hit downrange, but they also hit the wallet. Though how affordable the is remains a mystery, as Browning has yet to release the MSRP.
As to what a shooter gets, a pretty hot number. Browning tops the .350 Legend ammo with a 124-grain FMJ bullet and sends it running at 2,500 fps at the muzzle. The company touts it as the fastest of any factory loaded ammo for the caliber. True or not, it's still pretty dang quick.
Interestingly, the .350 Legend target ammo is much lighter than Browning's hunting load, topped with a 155-grain BRX bullet. Given the rifle is suited for shots 200-yards in this shouldn't moot the FMJ fodder for practice with a hunting rifle. In any case, the new Browning ammo is certainly to add more enjoyment to those that have a Legend in their gun case.
For more information on Browning's .350 Legend ammo, please visit browning.com.
---
Take Aim At Hunting Content: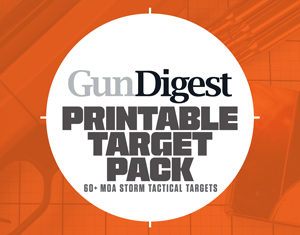 Next Step: Get your FREE Printable Target Pack
Enhance your shooting precision with our 62 MOA Targets, perfect for rifles and handguns. Crafted in collaboration with Storm Tactical for accuracy and versatility.
Subscribe to the Gun Digest email newsletter and get your downloadable target pack sent straight to your inbox. Stay updated with the latest firearms info in the industry.