Minimal and sturdy, Strike Industries' AR Pistol Stabilizer gives a solid support for the petite guns.
How the AR Pistol Stabilizer enhances a gun:
Fits buffer tubes up to 1.25 inches in diameter.
Tapered set screw ensures it says in position.
All snag points blunted and leveled.
Fiberglass reinforced.
5.3-ounce weight.
6.5-inch length.
Minimal as they may at first seem, there's plenty to AR pistol braces and stabilizers. Find the right one, you'll enhance your shot-to-shot accuracy and the overall shootability of the compact rifle-caliber firearms. Install the wrong one, your gun will probably hop like a toad on a hot plate.
Strike Industries appears to have hit the right notes with its sleek new tailfin. The AR Pistol Stabilizer not only steadies the short and wicked guns, but also eases the process of getting one into action. Fitting buffer tubes up to 1.25-inches in diameter, the unit uses a large tapered set screw to ensure it stays in place, no matter where it's positioned. Furthermore, Strike Industries has blunted and leveled any potential snag points, all but guaranteeing a pistol is fast into the action. Not to mention, it won't cheese grate your cheek.
Other notables of the AR-Pistol Stabilizer include built-in ambidextrous QD cups, fiberglass reinforcement, light 5.3-ounce weight and 6.5-inch length. The stabilizer's price is also reasonable, as far as AR upgrades go, with an MSRP of $39.95.
For more information on the AR Pistol Stablizer, please visit: www.strikeindustries.com.
---
More AR Articles: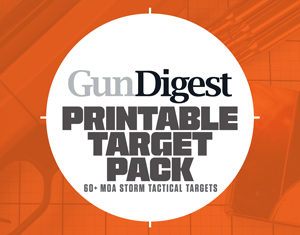 🎯 Exclusive Offer: Get Your FREE Printable Target Pack!
Dive into precision shooting with our 62 Exclusive MOA Targets featuring DOT Drills. Perfect for both rifle and handgun enthusiasts, these targets are designed for accuracy, especially for long-range shots.
Why You'll Love This Pack:
🎯 Expertly Crafted: Brought to you in partnership with the renowned Storm Tactical.
🎯 Versatile Use: Suitable for both rifle and handgun range sessions.
🎯 Precision Design: Target grids and bullseyes meticulously measured in MOA for the best shooting experience.
Bonus: By grabbing this offer, you'll also be subscribing to the Gun Digest email newsletter, keeping you updated with the latest in the world of firearms.
Don't miss out!
Simply enter your email below, and we'll send your downloadable target pack straight to your inbox.