An affordable holster that works and is comfortable? Sounds farfetched, but we dug up four of them that fit the bill.What Are The Affordable Holster Options:
I'll admit that I quite often utilize Mexican carry. In case you don't know what "Mexican carry" is, please don't speculate that it's a racist term conjured up by someone with "TDS" (Trump Derangement Syndrome) to describe carrying illegals back across the border.
Mexican carry refers to the practice of carrying a handgun in your waistband without a holster. When Mexican citizens were stripped of their right to carry firearms, they began to carry handguns without the aid of gun belts and holsters. If approached by any federales, they could ditch their pistols, and there were no holsters to signify they'd ever had one.
The practice is very similar to the OSS string holster, for which operatives in France during World War II would take a loop of string—or a shoestring—and wrap it around their belt. They would then shove their handgun through the loop. It actually holds the handgun in place reasonably well; and, if the operative were approached by Germans, they could ditch their handgun with no remaining evidence that they'd ever been armed.
I'm not suggesting either method is the best way to carry a handgun, but I will offer that a Browning Hi Power tucked into your waistband is about the most comfortable high-capacity carry option that exists in this modern world. But it does become an issue if your actions become "athletic"—your pistol just might slip out. Additionally, when you go to the restroom, you have to be careful.
I was once carrying a Lightweight Colt Commander in Mexican style and forgot about it. I had to make a quick pit stop at a rest area and was in what you might call a desperate hurry. When I dropped my drawers, the 1911 hit the floor. The guy in the next stall was apparently of the, shall we say, excitable type. I've never seen a fellow exit a stall and a restroom with more haste! Also, the pistol landed on its rear sight with enough force to damage it.
Ideally, most of the time, you should carry a handgun in a holster. The problem is finding a holster that's comfortable. I have a box full of holsters that, for lack of a more eloquent description … suck! I'm always looking for that better "mouse trap"—a holster that works, that's comfortable and that doesn't cost half as much or more than the gun I'm carrying.
Here are four affordable holster options I recently discovered, and they all seem to be well-designed. You might find one of them perfect for you and the way you carry. The good news? You won't have to spend a fortune to try them.
---
For more information on the best concealed carry holster check out:
---
OWB/IWB Holsters
Strong-side, outside-the-waistband (OWB) carry is probably the most comfortable way to carry a handgun in a holster. However, it's also the most difficult to effectively conceal. For those who prefer this carry method, there's also some concern about weapon retention. Some worry that if they become engaged in a physical confrontation, their attacker(s) might take their exposed gun from their holster.
Outside The Waistband: Safariland Model 637 ALS
The new Safariland Model 637 ALS Belt Slide Holster is a concealment holster that has an integrated thumb release, which must be activated before the handgun can be withdrawn. This holster fits many popular defensive handguns and is soft and flexible to fit around the wearer's body. It has 1.5-inch belt slots and even features a tension adjustment. MSRP: $55.50; safariland.com
Inside The Waistband: Versacarry Comfort Flex Deluxe
Inside-the-waistband (IWB) holsters are much easier to hide, but many find them uncomfortable for long wear. Some even require belt removal to take them off. Versacarry's new Comfort Flex Deluxe Holster is both comfortable and easy to put on and remove. It's made from buffalo leather and attaches via an industrial-strength, heavy-duty belt clip that will securely hold it in place. It also has a soft material backing to prevent sweating and enhance comfort. Four sizes are offered to fit duty-sized handguns, 1911s and compact handguns, and there's even a specific model for the Sig Sauer P365. MSRP: $45; versacarry.com
Appendix Carry: DeSantis Variable 87
Another new affordable holster, and one that should also work well for appendix (AIWB) carry, is the DeSantis Variable 87. This is a lightweight holster made from 1060 ballistic nylon and closed-cell foam. It's also lined with a slick cloth and is fitted with the DeSantis Tuckable 360 clip for unlimited cant adjustment. This allows the wearer to adjust the cant of the holster to enable the best presentation/draw possible, depending on where along their waistline they choose to wear it. The Variable 87 is offered in five different sizes. MSRP: $39.99; desantisholster.com
Unconventional Holster
I've never been a fan of a fanny pack for handgun carry. This is probably mostly due to the fact that I just don't like to wear fanny packs. It's not that I think I'm too "macho" for a fanny pack (although that could be part of it); I really just don't like wearing them. However, for those living the athletic lifestyle or who like to jog and engage in other physical activities in public settings, a fanny pack is likely the most viable option. And, for moms who have to deal with smallish children, I also think it's a better option than a handbag, primary because the gun is at least kind of attached to you.
Off Body: Galco Gunleather PAC Waistpack
The fanny pack has more or less fallen out of fashion for concealed carry. However, with the new influx of women and others living an active public lifestyle—and who are also serious about personal protection—Galco Gunleather has created the Fastrax PAC Waistpack. This fanny pack is unique: Inside it, there's a pivoting holster with an activation cord. This makes the handgun much easier and faster to access. It also has a front pocket to store other valuables, such as a wallet or phone. For those who might seriously need to have an athletic lifestyle, it will fit waist sizes up to 50 inches. MSRP: $79; galcogunleather.com
The article originally appeared in the April 2020 issue of Gun Digest the Magazine.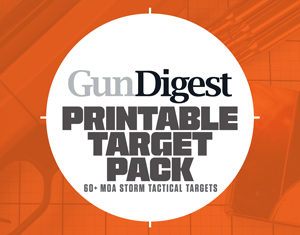 Next Step: Get your FREE Printable Target Pack
Enhance your shooting precision with our 62 MOA Targets, perfect for rifles and handguns. Crafted in collaboration with Storm Tactical for accuracy and versatility.
Subscribe to the Gun Digest email newsletter and get your downloadable target pack sent straight to your inbox. Stay updated with the latest firearms info in the industry.