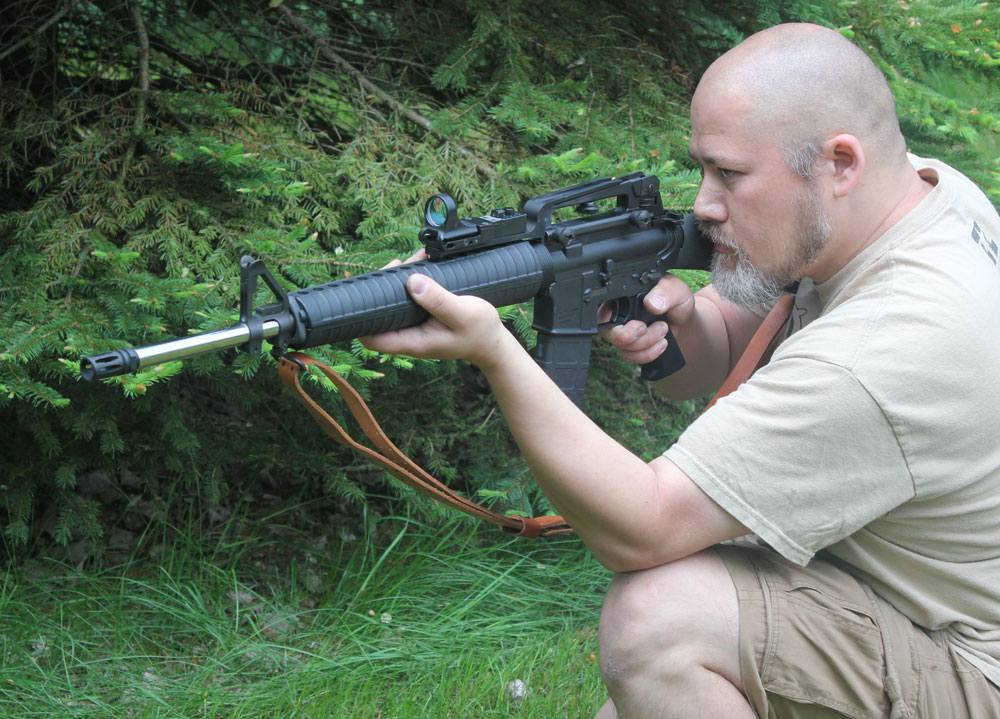 Now is a great time to add AR-15 optics to your rifle or carbine. In Part I, Muramatsu looks at the latest in red dot scopes for ARs.
The original idea behind the red dot scope was to have a single illuminated aiming point, sort of like a crosshairs in a riflescope, but at zero magnification, with a wide field of view. There are a lot of different sized dots, different colored dots (don't have to be red, but most are, and the originals were), not dots at all but circles, triangles, whatever, powered and unpowered, small and large.
The basic theoretical red dot sight is encapsulated in a smallish housing roughly 30-50 mm in diameter and three or four inches long. And black. Black is still the new black. A diode inside the back of the housing shines a beam forward that reflects off the front lens assembly back through the rear lens into the shooter's ocular sensory apparatus.
Adjustments are present to move that dot around the inside of the optic so that you can adjust the point of impact. There is generally no magnification. The dot covers a certain-sized circle at 100 yards. 4 MOA dots are common that cover a four-inch circle at that range. In a way, the dot size can allow some basic rough ranging ability, but the dot size can be variable and often is of different sizes for different tasks.
Larger dots are better at short ranges where precision is secondary to speed, and smaller dots, as small as 1 MOA or less, are used past 100 yards with good precision. Intensity settings on the theoretical red dot scope are user adjustable so that you can set it high for bright sunlight or quite low for those times when you are protecting your home in the dead of night.
This theoretical model will also have a clamp mounting system integral to the housing so that it can be slapped down on a Picatinny or Weaver mounting rail. The theoretical model, since it is basic, is also cheap and can be found for under $50. There are all kinds of models available.
Let's expand out from there. You can go up to the $100 range and find something with a little more in the way of flexibility. A Bushnell TRS-25 red dot scope is a nicely made, compact optic with familiar looks. There is a downside: it is going to need a Picatinny rail riser. UTG makes a super and super priced riser, that looks like it was meant to be used with the TRS-25, for about ten bucks.
Remember, an AR optic needs to be high up in order to raise it to the correct usable height. Up to this point, the battery life of these red dots mentioned is in the dozens of hours, using a watch battery as a power source, usually a CR2032 button. This battery is common (get it at any department store) and inexpensive.
The next tier of red dots gets expensive. This is because we are entering into the tactical realm of this particular universe. The previously mentioned types are generally hunting use or relatively low impact resistant, but are still commonly used as entry points on ARs and related rifles. Tactical, competition, and military/LEO shooters have a much more demanding agenda with red dots, just like with riflescopes.
Likely the most well-known red dot optic at this level is the Aimpoint. This is the small scope seen on many rifles carried by our military and is known there as the M68 Close Combat Optic. This model is based on the Aimpoint CompM2 red dot scope. In use it is much like the theoretical baseline model but with some under-the-surface enhancements. Battery life has been extended to the tens of thousands of hours.
You can leave these things on at full power for well over a year. The housings are reinforced and overall, the durability of the Aimpoint red dots is an order of magnitude above the previous tier of red dot optics. The CompM2 is pretty much obsolete now and they are a couple generations past it. But it is still in production and still well sold nationwide.
A different but still common alternative to the Aimpoint has been the EoTech Holosight. First of all it's not round. It's more squarish and boxy. If you are into squarish and boxy then boy, is the Holosight for you. Rather than using a red diode, the Holosight uses a "laser." I point that out simply to be a know-it-all.
It doesn't really matter in the grand scheme of things. The effect is the same in that you have a dot, or in this case a circle dot that appears to project onto the target but never leaves the confines of the optic body. Rather than using dials to adjust intensity, it has buttons either on the rear or the side of the housing that activate and adjust up and down accordingly.
The fun part about this model is that is uses the common AA battery, or the becoming common CR123 battery. Formerly used solely in cameras, the CR123 is regularly used in optics and tactical lights so that it is much more common. This is unlike the 1/3N battery that earlier Aimpoints used and you had to dig up online or at Radio Shack.
There are a host of Holosight models (same with Aimpoint) that you can choose from, based on requirements and cost. This tier of red dots ranges from $300 to over $600. Fortunately most now come with integral Picatinny mounts from the factory, so you don't have to pay extra for mounting hardware. They even come in something other than black, with several models available in a desert tan color. There are different reticles available too, the craziest one being on the Brownells model that looks like a biohazard symbol.
Micro-red dots are also increasingly common, and as the name would suggest, are quite small. These include the JP JPoint, Burris FastFire, Docter Optics red dot, Trijicon RMR, and others. They are small, very lightweight, use button batteries and last a long time, and often are constantly on, with no on/off switch, using a light sensor to self-regulate brightness. Prices come within a wide range. These optics are generally used not as primary sighting devices but as secondaries, mounted offset on the receiver or handguard, or to the primary scope's mounting system and used only when use of the primary would not be optimal.
The final (at least for now) tier of red dots is rarely red and there are only a few models to choose from. Most of these are passively powered, either by the great firebox in the sky or by radioactivity and usually by both. Models like the Trijicon Tri-power and the Meprolight optics use Tritium to make a visible reticle in subdued light and fiberoptic technology to illuminate the rest of the time, and they do so in a way that self regulates to ambient conditions.
In a way, what goes in comes out again in a perfectly visible, perfectly intense reticle. Meprolight calls it an Electro-optical sight, but the idea is that you don't have to do anything to the sight. You don't have to turn it on. You don't have to play with settings. Nothing. But this convenience comes at a higher price tag.
It's pretty clear that red dot sights are in a very real manner similar to the traditional magnifying optics in one crucial aspect: price. You get what you pay for. If you only want to spend $100 you will get a unit that is somewhat bulky or has relatively short battery life, works well, but is made in the PRC. If you want to spend $300 or more, you will get a more streamlined or lightweight unit that has battery life measured in the hundreds or thousands of hours, works really well, and is made in the USA, Japan, Israel, Germany, or Sweden, with a lifetime warrantee.
This article is an excerpt from Gun Digest Guide to Customizing Your AR-15.
Next Step: Get your FREE Printable Target Pack
Enhance your shooting precision with our 62 MOA Targets, perfect for rifles and handguns. Crafted in collaboration with Storm Tactical for accuracy and versatility.
Subscribe to the Gun Digest email newsletter and get your downloadable target pack sent straight to your inbox. Stay updated with the latest firearms info in the industry.
Get Free Targets
---