Updated 8/3/2023
Nothing beats the sweet sound of copper-jacketed lead ringing off steel targets. Here's what you need to know and the models to spend your money on for years of shooting enjoyment.
Why You Should Buy A Steel Target:
The sound of a hit gives you instant feedback on how you're shooting.
Many can double as pistol and rifle targets.
Cared for properly, steel targets last for years.
If you shoot a lot, they're cheaper per trigger pull.
Honestly, there are few things more fun to shoot at than steel targets.
A warning in moving to steel targets: They're addictive. Once you hear that sweet "Ping!" of copper-jacketed lead crashing into a plate of high-quality steel, you'll be left drooling like Pavlov's dog for more. Never fear: If the steel target bug bites you, you certainly aren't alone.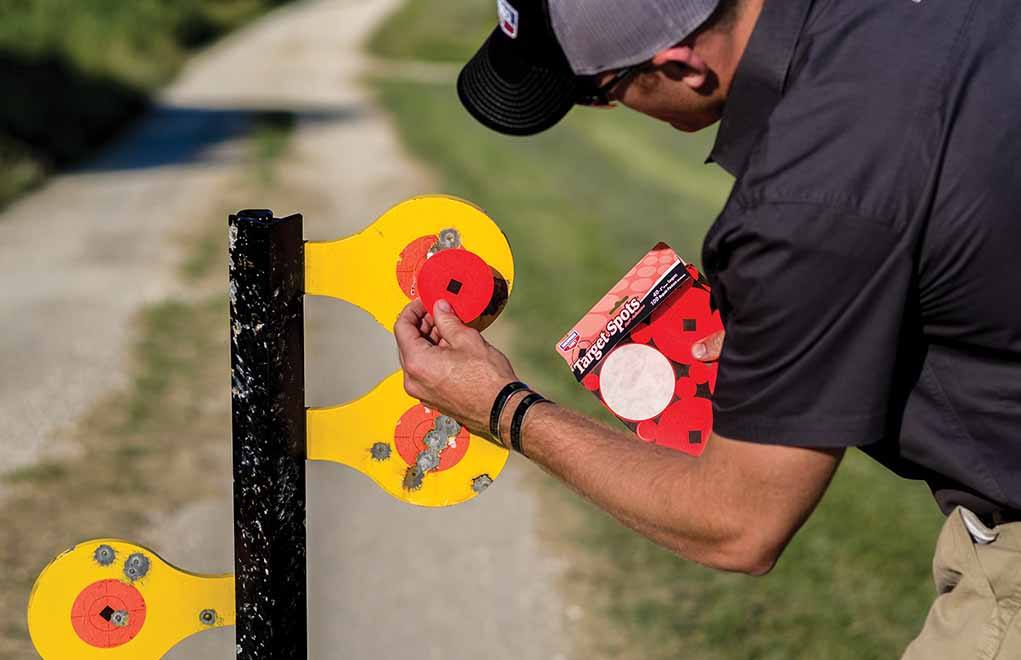 As a terminal destination for bullets for decades now, steel targets have become more common in recent years … and for good reason: Over the long run, they're extremely economical. Furthermore, these shooting-range gems come in every conceivable shape, size and function. From simple silhouettes to ingenious reactive targets, the sky is the limit.
With a wealth of options out there, picking the right one for your training and shooting enjoyment is difficult. But, we'll try to streamline the process. We collected 5 steel targets that hit the mark not only in their practicality, but also in regard to longevity and pleasure they'll add to your trigger time.
But, before we get to that, let's look at why you might want to (read: should) invest in this kind of shooting target.
Advantages of Steel Targets
To many, a target is a target – material make-up doesn't matter. Certainly, from preseason shooting to tramping after deer, a Redfield sighting-in target is handy. Outside of that, some would ask, what difference does the end destination of your bullet make as long as you're shooting?
Get On Target With These Posts:
True enough: Range time is great, regardless of what you set your sights on. But if you dig into the matter a bit more, you'll find that there are certain advantages steel targets hold over nearly any other kind.
Feedback: The sweet, addictive ping! of pounding away at steel targets isn't just pleasant, it's also practical. The sound gives you instant feedback that you're connecting, particularly if you're shooting a rapid-fire sequence. Opt for a reactive steel target and you'll also add a visible confirmation if you're on target.
Versatility: Buy the proper steel targets in the right sizes and you'll have something suitable for both pistol and rifle work. Furthermore, they're easy to configure when you build up a collection, and you can construct a lights-out course of fire.
Longevity: Even with a bag full of masking tape or pasters, paper and cardboard targets last but a shooting session or two – if you're really chintzy. With proper care, a steel target's longevity is measured in years, not sessions.
Economy: You pay more at the front end, but given the longevity of steel targets, they prove highly economical. Consider that a stack of 100 IPSC silhouette paper targets will run you about $35 and last a year or less, depending on how much you shoot. On the other hand, a 9-inch tall steel silhouette will last years for about the same price.
Enjoyment: This is subjective, but given that they're simple to set up and plum fun to plug away at, steel targets tend to offer more shooting enjoyment. Add in some reactive steel targets and it kicks the fun up to another level.
Choosing Steel Targets
There are some factors you need to consider when taking the dive into steel targets to make certain you're getting the most bang for your buck.
At the forefront, you need to aim at buying AR500 or AR550 steel targets if you're shooting most calibers above a .22 LR.
We won't go too far into the weeds about AR500 steel plate here, because we have an excellent explainer on exactly what it is, how to use it properly and why you want to buy it. But for our points here, let's just say that it's made to take a beating from centerfire calibers, even up to .50 BMG.
Next, it helps at the front end to figure out what the majority of your shooting will entail. You'll save money this way. There's no need to buy a 17-inch tall, ½-inch-thick AR500 steel gong if you plan on plugging away with your 9mm from 10 yards. Along with this, you should also think about what sort of mounting system you'll require. The bigger the target, the more support it needs, thus the more money you'll have to spend. But if you're figuring on something large enough to push your rifle out to 1,000 yards, it might very well be worth the investment.
Now on to the good stuff …
Great Steel Targets From Birchwood Casey
Birchwood Casey World Of Targets Handgun Dueling Tree
If handgun shooting is your focus, a high-quality dueling tree is among the best options. And Birchwood Casey offers one of the most affordable and convenient models.
Featuring six AR500 steel paddles, the steel targets swing to the opposite side when hit. This offers visual and auditory feedback, as well as making a great option for single and dual shooters. Two really is better than one when it comes to a dueling tree.
With toolless assembly and its own stand, Birchwood Casey's unit only takes seconds to set up, but takes hours to pull yourself away.
Shoot Steel ½-Inch AR550 Gong Bundle
As far as getting into steel targets, gongs are a staple. But it's better – and more fun – to have more than one at which to plug away.
Shoot Steel offers a great opportunity to instantly create a course of fire with its ½-inch thick AR500 Gong Bundle. Featuring one 8-inch and three 4-inch gongs, it's a great starter pack and versatile to boot.
The steel targets' thickness makes them adequate for rifles up to .338 Win. or Lapua Mag. when set up beyond 200 yards. To boot, you can plug away at them with any pistol from 10 yards or greater.
Range Time AR500 IPDA/ IPSC Silhouette Steel Target Pack
Great for defensive training or long-range work, silhouettes are a must for any steel-target collection. An excellent deal, Range Time AR500 targets doubles your fun in this style of target with a twofer. If you want to work on engaging multiple threats, this is a perfect option to get you rolling.
At 20-inches tall and 12-inches wide, the steel targets are a realistic size and built to last. Available in 3/8- or ½-inch thick plate, you have a pistol-exclusive option and one capable of taking a hit from a high-powered rifle at distance.
MSRP: $134.98 pack of 2 3/8-inch thick; $209.94 pack of 2 ½-inch thick
Champion Center Mass AR500 Pop-Up Target
Among the simplest, yet most satisfying reactive steel targets are poppers. Falling over when hit, they give you instant feedback on your shooting, with plenty of enjoyment when they topple. The best kinds are the ones that set themselves back up, and Champion offers an economical option with its Center Mass Pop-up.
Actuated by a hefty torsion spring, the pop-up quickly set itself back in place and is ready for more after being shot. Available in two sizes – 14″x4″ and 20″x6″ – the 3/8-inch thick AR500 steel targets are perfect for any sort of pistol shooting you do.
MSRP: $129.11
Magnum Targets Steel Hostage Reactive IDPA
With a steel hostage and chest flappers that when hit, Magnum Targets really spices up the traditional silhouette. It also potentially makes the style of target more useful. Enhancing drills while demanding the utmost accuracy, the steel target is ideal for honing your self-defense skills to a razor's edge.
The 12″ x 22″ silhouette is more than enough to stand up to punishments from most defensive calibers. Constructed from 3/8-inch AR500 steel, at appropriate ranges it can also handle some rifle calibers—as long as the bullet delivers less than 2,100 ft/lbs of energy at point of impact. Regardless of what you favor, the target is an absolute blast.
---
Get On Target With These Posts:
Next Step: Get your FREE Printable Target Pack
Enhance your shooting precision with our 62 MOA Targets, perfect for rifles and handguns. Crafted in collaboration with Storm Tactical for accuracy and versatility.
Subscribe to the Gun Digest email newsletter and get your downloadable target pack sent straight to your inbox. Stay updated with the latest firearms info in the industry.
Get Free Targets
---