Philip Massaro tackles primer installation, the first process of assembly in reloading as well as case charging. Learn the differences between large and small primers, and how to use a primer cup accessory on a single stage press. Plus how to dispense the correct powder charge.
In the segment, Massaro shows how to prime a .30-06 rifle and a .45 ACP pistol case. He explains special precautions with .45 ACP brass, which can have either small or large primer pockets, a variance that needs to be watched closely when sorting brass and choosing primers. Basic cartridge case charging is covered, too, with a RCBS digital powder demonstrated. The process of using a static-busting powder funnel is an important tool that will enable you to keep all your powder in the case in a safe manner.
---
Learn The Basics Of Reloading Ammo:
---
Gun Digest Reloading Video Series Brought to You By:
---
NEXT STEP: Download Your Free Storm Tactical Printable Target Pack
62 Printable MOA Targets with DOT Drills - Rifle Range in YARDS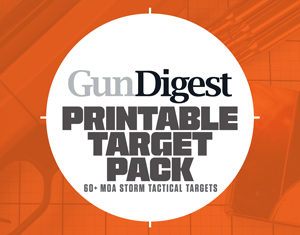 This impressive target pack from our friends at Storm Tactical contains
62 printable targets
for rifle and handgun range use. Target grids and bullseye sizes are in MOA. Ideal for long-range shooting!
Get Free Targets
---