Get Your Free Storm Tactical Target Pack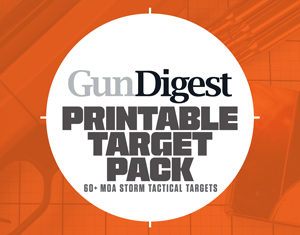 This special Printable 62-Target Download from our friends at Storm Tactical contains 62 printable targets for rifle and handgun range use. Target grids and bullseye sizes are in MOA. Ideal for long-range rifle shooters!
Enter your e-mail in the box below and we'll give you IMMEDIATE ACCESS to a digital PDF of the Downloadable Target Pack.
By downloading this target pack, and as an added bonus, you agree to receive the industry's best e-mail newsletters from Gun Digest, as well as deals and promotions from Gun Digest Store and industry-leading companies straight to your inbox. This FREE service is another benefit of being a fan and reader of Gun Digest.