Get Your Free Download! Essential Glock Accessories
Nothing runs quite like a Glock. Right out of the box these Austrian-made polymer wonders are tough, accurate and reliable. Many choose to carry and shoot them as-is. They're that good. But there are accessories you can add to your Glock to make it even better – for concealed carry, duty use or competition. This free download covers it all, from Glock mags to Glock sights and Glock triggers. Whether you've just bought a new Glock or have carried one for years, this download covers the things you can do to your Glock to fine-tune its performance for your specific needs. This download covers Glock accessories, including:
• Glock Magazines
• Glock Holsters
• Glock Sights and Tools
• Glock Components for Competition
• And More!
Accessorize and upgrade your Glock … with this 77-page download!
To receive your free download, join our mailing list and never miss news, tips, promotions or discounts.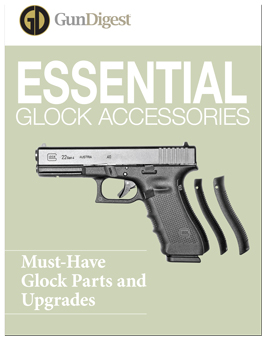 ---
Here's a Sneak Peek Inside Your Free Guide to Glock Accessories:
Glock Parts and Accessories
Are you ready to make your Glock rock? The tips and insights on Glock 17 accessories, Glock 22 accessories or upgrades for any model of Glock found in this download will help you take your Glock's performance to the next level. Learn all about Glock magazine types, maintenance and upgrades to keep rounds feeding smoothly at all times into your gun.
"Springs will always be with us," says Sweeney. "If you are going to go and do some really high-volume practice or competition, you should invest in spare magazine springs. The problem isn't leaving them loaded but in using them. The repeated cycling is what wears out a magazine, not leaving it stressed. (At least not good ones.) I've had good luck for a long time with Wolff springs and recently with ISMI springs. I've been putting tens of thousands of rounds through an ISMI recoil spring for a 1911 that has not showed significant compression set yet."
Glock Magazines and Accessories
You'll learn all about Glock mags – the 5 different types and variations and how to identify them, plus Glock mag add-ons to improve function for specific applications. Our resident Glock expert, Patrick Sweeney, covers Glock mag extensions and mag springs as well.
"I know of more than one Glock owner who has never had his magazines apart," writes Sweeney. "Partly because they never fail (at least in 9mm) but also partly due to the sometimes difficult disassembly procedure. While stripping the pistol is a piece of cake, getting the magazines apart can sometimes be a real hassle. The nature of the polymer is the problem. Since it is a slightly flexible material, the interlocking parts of the magazine have to be relatively large and strong to take the load. The magazine is composed of five parts; the tube, follower, spring, retainer and baseplate. (Some very old magazines were made without the internal retaining plate.)"
Glock Holsters and Accessories
Find out the best gear for carrying your Glock more comfortably. The selection of concealed carry holsters for Glocks has never been greater. Learn the best models for Glocks and whether you need a magazine pouch. Also covered are tips on fanny packs and gun belts for open or concealed carry.
According to the author, "Glock makes holsters for their pistols, but there are only two designs. Most of the real action is from the independent holster makers. After all, with millions of Glocks out there, a holster maker would be engaging in suicidal marketing if he didn't offer at least some styles to fit Glock pistols. As long as you don't just carry your Glock around in a paper bag, I'm not sure you can go wrong buying a holster. A good one, that is. Don't be tempted by prices that seem too good. They usually are."
Upgrading Your Glock Sights
Stock Glock sights are simple – but good. That white line and white dot are so '80s, but hey they work. Even so, one of the most popular Glock accessories you can add are new Glock sights. This section looks at adjustable Glock sights and night sights for Glocks, plus tools for changing out your Glock sights at home. Learn why special tooling is required to do the job and how to ensure a professional installation.
"Some people don't favor a plastic sight, and I can't say that I blame them," Sweeney writes. "Not just the wear of plastic but also the banging around a handgun gets in service use. For taking a beating, nothing works like steel. And if you're going to go to steel, you might as well get some night-capable sights too."
Customize Your Glock for Competition
There are many accessories to beef up your Glock for competitive shooting – from aftermarket barrels and recoil springs to new Glock triggers. Learn how you and your Glock can dominate the winner's circle.
"One of the really cool parts of being a gun writer," Sweeney relates in the download, "is the opportunity to test a custom gun. Or a bunch. The custom Glock I had a chance to test is the personal gun of Irv Stone III of Bar-Sto. As you can imagine, it has some really cool features, but surprisingly it has some box-stock ones, too. Why? Because some things on the Glock don't need changing, even from the point of view of the picky American competition shooter."
---
---
Claim Your Free Copy of Essential Glock Accessories
Join the Gun Digest newsletter and start choosing the best Glock accessories