AR 15 M16 Gas Piston Conversion Kit Primer Download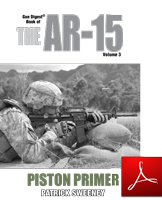 Thinking about buying an AR-15 Piston Kit or new-from-the-factory Piston AR? This FREE Download, courtesy of Gun Digest and Patrick Sweeney's Gun Digest Book of the AR-15 Vol. 3 is your starting point. You're one step away from downloading this essential primer on AR-15 piston systems. Simply submit your e-mail below to continue to the FREE Download. You'll Learn:
How the AR-15 Direct Impingement System works
Advantages of the AR-15 Piston system
7.62×39 Gas Piston AR 15s
And More!
[form id="81661″]
As an added bonus, we'll send you the industry's best e-mail newsletters from Gun Digest and Tactical Gear and the industry-leading companies' special offers, straight to your inbox. This FREE service is another benefit of being a fan and reader of Gun Digest.
---
by Corey Graff, online editor
Colt Defense has modified its one-piece monolithic upper receiver into the LE6940P — a piston operated AR. This modular carbine has an articulating link piston (ALP) operating system and offers shooters a highly accurate, lightweight and easy-to-clean AR-platform rifle with an extended lifespan.
"The new LE6940P puts to use a new, improved version of a piston system that Colt originally pioneered for the US Army," said David Ridley, Vice President of Colt Defense LLC, "Now, any civilian shooter or law enforcement professional has the opportunity to shoot using this superior piston-operated AR."
The advanced piston carbine (APC) is a lightweight, highly accurate alternative to the traditional direct gas impingement system found in most ARs. The LE6940P's piston system is said to reduce inherent stress in the piston stroke by allowing for deflection and thermal expansion. As a result, accuracy improves and the weapon's lifespan is extended, says Colt.
Measuring 35 inches with the stock extended and weighing just over six and a half pounds, the LE6940P was designed to be lightweight — a handy feature sure to help reduce shooter fatigue. A one-piece monolithic upper receiver gives ease in assembling parts, disassembling and cleaning. The 5.56mm, magazine-fed carbine has a semi-automatic rate of fire with 700 to 950 rounds per minute. Chambered in .223 Rem (5.56 x 45 NATO), this rifle has an effective range distance of 600 meters.
A continuous rail from the rear of the upper receiver to the front sight provides repeatability for mounting optical systems, not found with most aftermarket rail systems. In order to enhance the shooters' versatility in both close quarters and long range, Colt has also incorporated a back up iron sight (BUIS) and a folding front sight.
Learn more at colt.com
---
My Recommended Tactical Rifle Resources

Gun Digest Book of The Tactical Rifle
Gun Digest Buyer's Guide to Tactical Rifles
Own the Night: Selection and Use of Tactical Lights and Laser Sights