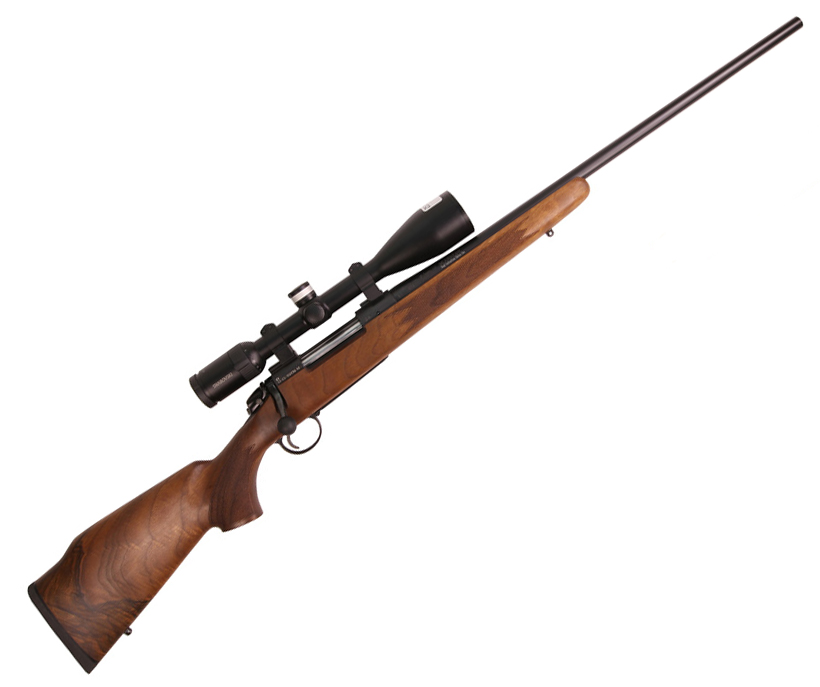 Bergara is offering hunters an economical choice with the release of its B14 rifle. Like much of the B-14 line, the rifle has exceptional quality.
Bergara is a Spanish barrel maker that recently gained a Georgia drawl.
Not so long ago, the company expanded its operations to one of America's hotbeds of firearms manufacturing. In the process, the company expanded its horizons to manufacturing complete rifles.
While much of gun maker's early offerings have had a tactical flare, it has turned its eye more closely to hunters as of late. And it looks to have given them a fairly slick looking rifle that — if it lives up to previous offerings — should be right on target.
Perhaps best of all, the Bergara B14 doesn't look to break the bank in offering a top-line rifle. The walnut stocked Timber version has a price tag of $950, while a synthetically stocked Hunter model is $825. This is well below the previous rifles the company has released, which run into the thousands of dollars.
Being a Bergara, however, it's the rifle's barrel that should end up stealing the show. The company's multi-stage process of boring and rifling its chrom-moly barrels has been reported as leaving nary a tool mark, thus making them superbly accurate.
In particular, it is Bergara's honing process and the utilization of diamond-tipped bits that create the bore's mirror-like finish. The company then button rifles the barrels, keeping the deviation of the groove less than .0002".
The B14 is being offered in five chamberings — .300 Winchester Magnum, .30-06, .270, .308 and 6.5 Creedmoor. This selection should cover nearly any game stalked in North America, not to mention an individual hunter's preferences.
The rifle's dimensions can vary slightly, depending on if the caliber requires a short or long action. The short action models have a 22-inch barrel length and measure 41.25-inches overall. Tack two inches on for long actions.
There is also around .45-pounds difference in the B14 weight depending on the action. Obviously, the long action is a hair heavier. The stock material also plays a hand in overall weight, but not as much as might be expected. The long-action Timber model tips the scales at 7.9 pounds, while synthetic Hunter version (with the same action) is 7.5 pounds.
This weight deferential translates over to the short action. And, it appears to give hunters a fairly manageable rifle, no matter what material they prefer for their stock.
Both stocks are bedded with integral pillars, free-floating the barrel and adding stability to the platform. This is yet another area where Bergara has turned an eye to the overall accuracy of the B14.
If the B14 rifle follows in its predecessors' footsteps in its ability to deliver precise shots, it could turn out to provide a lot of bang for the buck.
🎯 Exclusive Offer: Get Your FREE Printable Target Pack!
Dive into precision shooting with our 62 Exclusive MOA Targets featuring DOT Drills. Perfect for both rifle and handgun enthusiasts, these targets are designed for accuracy, especially for long-range shots.
Why You'll Love This Pack:
🎯 Expertly Crafted: Brought to you in partnership with the renowned Storm Tactical.
🎯 Versatile Use: Suitable for both rifle and handgun range sessions.
🎯 Precision Design: Target grids and bullseyes meticulously measured in MOA for the best shooting experience.
Bonus: By grabbing this offer, you'll also be subscribing to the Gun Digest email newsletter, keeping you updated with the latest in the world of firearms.
Don't miss out!
Simply click the link below, enter your email, and we'll send your downloadable target pack straight to your inbox.
Get Free Targets
---