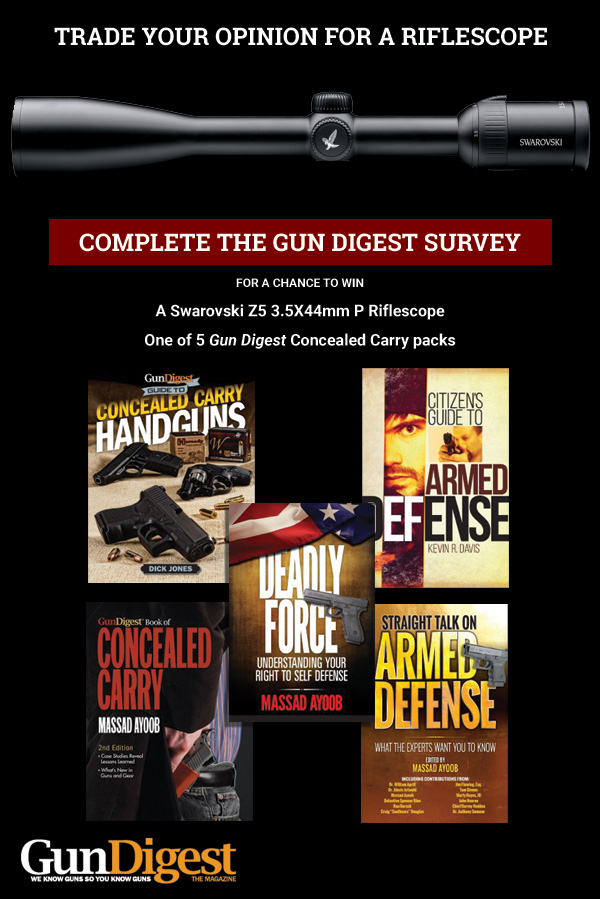 We Know Guns So You Know Guns. That's our tagline, and that's our commitment to you—a 365-day-per-year devotion to bringing you everything you need to live the gun lifestyle to the fullest.
But it takes a village to succeed, and it would be extremely short-sighted of the Gun Digest team to not reach out to you for your opinions on what we're doing well…and what we need to improve upon.
If you've ever flipped through the pages of Gun Digest the Magazine, bought a Gun Digest book, subscribed to one of our enewsletters, poked around on the Gun Digest Facebook page, scrolled through GunDigest.com—or simply want to submerse yourself deeper into the gun lifestyle—we need your ideas.
Please take a bit of time and complete the survey. In return, everyone who completes the survey receives a 15% off discount code for GunDigestStore.com. You'll also have the opportunity to win a Swarovski Z5 riflescope, and one of 5 Gun Digest Concealed Carry book packs.
It goes without saying, but your information and responses will be kept completely confidential.
Think of yourself as an integral member of the Gun Digest strategy team. We do, and that's why we're asking for your help.
Shoot straight…or shoot a lot.
Luke Hartle
Editor, Gun Digest
Jim Schlender
Publisher, Gun Digest