Special Offer: Get a FREE 1911 Digital eMag Celebrating 100 Years of the 1911!

Springfield Armory Champion 4-Inch 1911
Doublestar's 1911 – Worth the Wait
Dan Wesson/CZ USA Pointman Seven
Sig's Tactical GSR 1911
Much, much more!
Collecting Gun Digest: The Greatest Gun Annual
When I was a wee slip of a lad back in the days of Herman's Hermits and Mr. Ed, two publications comprised the bulk of my literary diet: Boris Karloff's Tales of Mystery and Gun Digest. The Karloff magazine (well, comic book, actually) is long out of print, but Gun Digest just keeps chugging along.
And I hope it always will.
Saying Plenty
Gun Digest was — and is — the 900-pound gorilla of firearms annuals. It didn't matter if you were a handgunner, trap-shooter, historian, hunter, collector or even a rotten little kid from Indiana — Gun Digest always had something for you.
This breadth of content no doubt accounted for the annual's amazing distribution and enduring popularity. In what other annual could you find articles by Elmer Keith, Jack O'Connor, Maj. George Nonte, Warren Page, Lucian Cary and dozens of other towering figures in shooting literature? No wonder Gun Digest had a world-wide following. In fact, it'd be surprising if it didn't.
True story: In Fall 2005, my wife and I were in Guelph, Ontario, visiting my daughter at college. After our visit, we meandered back along the Queen's Expressway. Outside some tiny little burg in the middle of a vast expanse of wheat fields, we passed a hand-painted sign saying, "Estate Sale." I have a helluva hard time passing up a sign like that, so we turned off the expressway and sped up a little dirt road.
After a few miles, we pulled up to an outdoor sale held in the backyard of a seedy little farmhouse, complete with peeling paint and a washline strung between two rusty poles.
And what a sale it was. As I passed up tables containing such things as an original glass-topped burial case (shoulda bought that) and a King four-valve sousaphone (shoulda bought that), I came upon a medium-sized stack of Gun Digests. The stack contained an original first edition, a 1964 issue autographed by editor John Amber and a brand-new 2005 issue edited by my friend and co-worker Ken Ramage.
I bought them all, of course. I was higher than a kite on the trip home, and as I floated along, I got to thinking: What does it say about Gun Digest that some old Canadian farmer living in a shack in the middle of Nowhere, Ontario, held onto a first edition, an autographed edition and a brand-spankin'-new 2005 edition until the day he died?
It says plenty.
Enduring Appeal
I suppose the firearms journal of record is American Rifleman magazine. It's a great magazine, for sure. But in terms of annuals, Gun Digest is unique. It has consistently contained work by the biggest names in the business, and it's invaluable as a year-by-year trend tracker.
DOWNLOAD THE TEN FOR ALL TIME COLLECTIBLE GUNS COMPILATION
Pull down almost any year, and you'll be able to sit back with master writers, whose names run the gamut from A to Z; from John Amber to Don Zutz.
I have an enduring interest in guns of all types. Yet the days are rapidly ending when I feel comfortable shucking out a handful of hundreds for this revolver or that shotgun. Yet I have discovered a simple pleasure; one in which I can indulge at minimal cost: collecting Gun Digests. In fact, I must admit I've gotten more pure pleasure from collecting Gun Digest than from any gun I've ever bought.
Gun Digest was founded in 1944 by Milton P. Klein, owner of a major Chicagoland sporting-goods store. Guns were in short supply in those World War II years, and Klein reasoned that if people couldn't buy new guns, perhaps they'd like to read about them.
So Klein engaged Charles R. Jacobs to whip up some publication he could sell.
Ramage, the current editor of Gun Digest, picks up the story from there:
"That first edition, 164 pages including covers, included not only catalog-type listings for rifles, pistols and shotguns, but a number of firearms and shooting sports articles by some of the well-known writers of the time: Jack O'Connor, C.S. Landis, Maj. Charles Askins, Maurice H. Decker, E.B. Mann, etc. That edition's format, published under the direction of GD's first editor, Charles R. Jacobs, laid the keel for the book's basic direction through the following decades. The next three editions were very similar in makeup and presentation.
"After the fourth edition, a new editor was named, and the book was further refined. The fifth edition appeared in 1951 with a whopping 224 pages between four-color covers (showing an engraved and gold-inlaid S&W .357 Magnum revolver). At the editorial helm was John T. Amber.
A study of the contents lineup shows there are more articles, and the contents are organized into major topic sections. Joining the contributors were Elmer Keith, Roy Weatherby, Charles Askins, Ray Riling, E. M. Ferris and Maj. Gen. J.S. Hatcher.
Amber would edit Gun Digest for many more years, through the 33rd edition.
"A new byline appeared on the cover of Gun Digest's 34th edition in 1980. Ken Warner became the third editor of the book and continued to build upon the solid foundation of the previous decades. The book had grown, and this 34th edition carried 464 pages plus covers –– double the size of the fifth edition (and nearly three times the page count of the first edition). Gracing the cover was Ruger's new stainless steel .44 Magnum revolver, the Redhawk. The table of contents reveals not only new contributors, but a number of authors who are still with Gun Digest (or other books in the publisher's family) in these early years of the 21st century: Larry Sterett, Tom Turpin and J.B. Wood.
"Change is a fundamental constant in our world, but in some ways, Gun Digest seems an unchanged constant. Still, 20 years later, a new editor's byline appeared on the cover of Gun Digest 2001, 55th Edition — yours truly. Like the forgoing benchmark editions, the 2001 edition carried an even higher page count –– 544 pages. The cover gun was a half-size Farquharson rifle, engraved and gold-inlaid. The table of contents listed old friends Bob Bell, Larry Sterett, Hal Swiggett and Tom Turpin, as well as authors who had come into the book in more recent years.
"Something of a mission statement for Gun Digest has evolved over the years. Fundamentally, the book is about guns. When people, or activities (like hunting, competitive shooting,) are included, they appear in a secondary role to the firearm involved. Gun Digest is a blend of feature articles calculated to provide some interesting reading, and a wealth of current and relevant firearms reference material useful to virtually any firearms enthusiast. Now in its 61st edition, and totaling 568 pages, Gun Digest has seen tremendous changes in the shooting sports landscape and adjusted itself appropriately. The rather stringent editorial criteria remain the same, and the book now runs those works in full color on good coated paper."
Collecting the Classic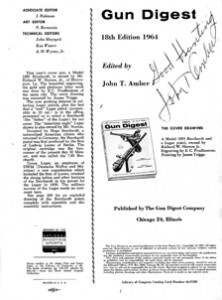 I'm just the kind of guy Klein had in mind when he dreamed up the idea for Gun Digest 60-odd years ago. I can't buy many new guns, but I sure like reading about them. I like reading about them so much, in fact, that I've assembled a collection of every edition of Gun Digest, from the first edition to the 62nd.
It's been a rewarding hobby, if a never-ending one, and one that didn't require a huge cash outlay.
In 1996, Skip Criner published a short piece in the 50th edition of Gun Digest titled, "Collecting Gun Digest." Much of what he said 12 years ago remains true today. It took Criner four years and about $500 to complete his 50-volume collection, and I suppose that's just about how much time and money I have in mine. At $500 for 62 issues, that's less than $9 a pop.
It's much simpler to collect Gun Digest today because of the internet. If you let your fingers do the walking over your keyboard, you can track down many editions for less than $10 apiece — with a few notable exceptions. I have seen the rare 1944 first edition priced as high as $300. The 1946 second edition seems even scarcer, perhaps because few people bother to keep a second edition of anything. And the 1963 reprint of the first edition makes a nice companion piece to the 1944 first edition.
But don't forget to check used bookstores, antique malls, garage sales, flea markets, and any other place where you might find used sporting goods. Remember, my best one-day haul came from an estate sale in Ontario.
The best thing about collecting Gun Digest is that upgrading your collection is a never-ending challenge. My 1944 first edition is a bit worn, but I know that somewhere, maybe in an antique mall, there's a first edition in mint condition. Someday, I hope to find it. I have several editions in almost mint condition (including a 1953 edition I found in an antique store in Allen, Mich., for $7), but I have perhaps 40 that could stand to be upgraded. That's what keeps me looking.
If some day I have all 60-odd volumes in mint condition, I'll turn to collecting autographed copies. So far, I have only four: three autographed by Ken Ramage and one by John T. Amber. I'll keep looking for copies autographed by Ken Warner and Charlie Jacobs. The latter is gonna be a toughie.
After I have an autographed copy of every edition in mint condition, I'll start collecting Gun Digest treasuries. These were anthologies of previously published Gun Digest articles and were printed mostly in the 1970s. And after I've got mint copies of all of those — I'll start over again. Upgrade, upgrade, upgrade — that's the mark of a true collector.
Keep Them Going
To my knowledge, Gun Digest was never printed on acid-free paper. That means that slowly and inevitably, they will crumble into powder. You can forestall that unhappy occurrence, however, for a few centuries by following some rules:
Keep your books out of direct sunlight or bright ultraviolet light. They'll fade if you don't, or they'll fox (that is, turn brown around the edges). Those old-fashioned bookcases with the glass fronts are slow killers.
Store them in a cool, dry environment with low humidity. Books hate high humidity.
Don't wedge them tightly together. Pulling them out and pushing them back in abrades and scuffs the covers.
Keep especially valuable editions sealed in mylar sleeves, such as those available from bcemylar.com. To visualize what you're hunting for, first locate a copy of the 50th edition, published in 1996. It contains a 16-page color section by Gary M. Brown that illustrates the first 50 Gun Digest annual covers. After you've been collecting for a while, you'll be able to identify some editions from 50 feet away. (For example, the 1970 edition is bright yellow and red, and has two Marlin lever-actions on the cover. I received the 1970 edition on my 10th birthday, and I think I could sketch the cover blindfolded.)
Spreading it Around
I am slowly but surely (very slowly and not very surely) working on a cross-referenced spreadsheet of all Gun Digests, from 1946 to date.
This spreadsheet will let you look up any Gun Digest article by subject or author name. When I get it done, if the undertaker doesn't call me for a checkup first, I'll make it available to Gun Digest the Magazine readers for a fee of $0.
After all, a collection doesn't do you much good if you don't spread it around, right?  PREVIOUS PAGE

Dan Shideler was a senior editor for Gun Digest Books from 2004 until 2011, best known for his entertaining prose and knowledge and insight into firearms history, trends and pricing. He served as editor of two of the industry's most respected annuals: Standard Catalog of Firearms and Gun Digest. Dan passed away in April 2011, leaving a void in the world of firearms literature that may never be filled.
---
Download a digital copy the 1960 Gun Digest in PDF!
Gun Digest: The First Ten Years (1944-1953) Digital Download Bundle
Order the complete 65-year library of Gun Digest books on 3 DVDs!