AR 15 M16 Gas Piston Conversion Kit Primer Download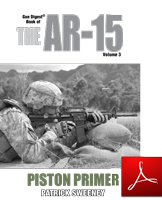 Thinking about buying an AR-15 Piston Kit or new-from-the-factory Piston AR?  This FREE Download, courtesy of Gun Digest and Patrick Sweeney's Gun Digest Book of the AR-15 Vol. 3 is your starting point. You're one step away from downloading this essential primer on AR-15 piston systems. Simply submit your e-mail below to continue to the FREE Download. You'll Learn:
How the AR-15 Direct Impingement System works
Advantages of the AR-15 Piston system
7.62×39 Gas Piston AR 15s
And More!
As an added bonus, we'll send you the industry's best e-mail newsletters from Gun Digest and Tactical Gear and the industry-leading companies' special offers, straight to your inbox. This FREE service is another benefit of being a fan and reader of Gun Digest.