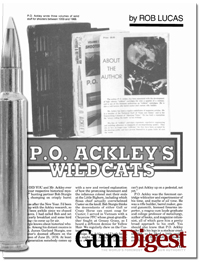 You're One Step Away from Downloading the Improved Cartridges of P.O. Ackley Gun Digest Compilation!
To download four historic Gun Digest articles
in digital .pdf format about the emminent wildcatter P.O. Ackley submit your e-mail below.
Learn about the Ackley Improved cartridges
Get the history of wildcatting and wildcat cartridges
See what Ackley himself had to say about improved versus standard cartridges!
As an
added bonus
, we'll send you the industry's best e-mail newsletters from
Gun Digest
and
Tactical Gear
and the industry-leading companies' special offers, straight to your inbox. This
FREE
service is another benefit of being a fan and reader of
Gun Digest
.