A trip in the way-back machine gives a behind the scenes look at Bill Ruger's animosity for the Mauser bolt-actions so popular at the time.
"I was amused and pleased to discover that Bill Ruger shares my sense of revulsion to the sloppy feel of most Mauser type actions when the bolt is opened—it simply rattles around with all the sound and feel of mechanical precision displayed by a piece of scrap iron being shaken around in the bottom of a tin bucket!"—Roger Barlow, "Ruger's Reactionary Rifle," the story of the introduction of the Ruger No. 1 single-shot, as it appeared in Gun Digest, 1967.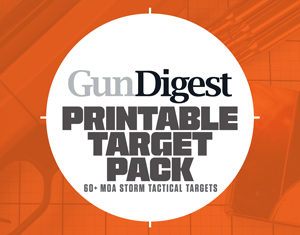 Next Step: Get your FREE Printable Target Pack
Enhance your shooting precision with our 62 MOA Targets, perfect for rifles and handguns. Crafted in collaboration with Storm Tactical for accuracy and versatility.
Subscribe to the Gun Digest email newsletter and get your downloadable target pack sent straight to your inbox. Stay updated with the latest firearms info in the industry.