Gun quotes from Gun Digest. Here's a controversial Massad Ayoob quote about Col. Charles Askins, Jr.
"There were facets to Charlie that I wouldn't want in a cop. There was racism. There was a killer instinct, too strong, strong enough to sometimes slip its leash. Some of his shootings, had they been adjudicated, could have earned him 'life without parole.'"
—Massad Ayoob, on Col. Charles Askins, Jr., Combat Shooting with Massad Ayoob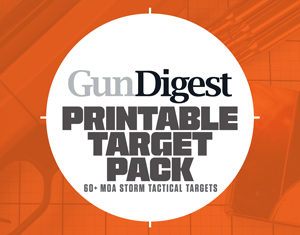 Next Step: Get your FREE Printable Target Pack
Enhance your shooting precision with our 62 MOA Targets, perfect for rifles and handguns. Crafted in collaboration with Storm Tactical for accuracy and versatility.
Subscribe to the Gun Digest email newsletter and get your downloadable target pack sent straight to your inbox. Stay updated with the latest firearms info in the industry.