The announcement said "Learn to Shoot Pistols!" With a Combat Focus Shooting clinic on my schedule for June, I thought this local basic handgun training class would be a good way to avoid showing up at the clinic completely unprepared.
The class, which was for women only, offered instruction on safe gun handling, firearm storage and the basics of pistol shooting, and time on the shooting range. Students, 18 in all, varied with regard to their level of shooting experience, and included several mother/daughter participants.
Overall, I guess the class delivered what it promised, but I would have to say not with any depth. The instructor read each of the points on the class outline, but didn't offer much in the way of explanation, insight or experience related to the information. We did get a chance to shoot about 80 rounds each, all with .22 pistols, and the range part of the class was safely executed and fairly well organized.
Afterward, what stood out most to me were the gaps – the opportunities that the instructor missed to relieve the puzzled looks on the faces of students. It occurred to me later that the books I've edited here at Gun Digest – one in particular – had given me a solid understanding of fundamentals I expected would be covered in the class.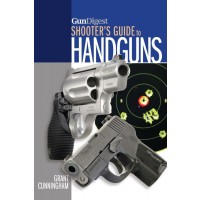 Gun Digest Shooter's Guide to Handguns gives excellent instruction on the basics of handguns, ammunition and shooting. The firearms experience and insight of author Grant Cunningham, as well as his skill in conveying information, is apparent throughout. Particularly helpful in relation to this class was the facile description of how an autoloader works. I think that knowing what the gun would do, prior to firing it, took away some of the intimidation factor.
Surprising (to me, at least), was the benefit that came from a basic understanding of ammunition and how it works. Based on the aforementioned puzzled looks, very few participants in the class knew the simple process that occurs when a round is fired. The Shooter's Guide to Handguns presents this information in a really accessible way, too.
Being in this industry, it's easy to forget that shooting a gun, especially for the first time and inside a small room, can be intense. Along with the knowledge gained from books, a couple of simple experiences I've had contributed greatly to my comfort level and success in the class.
One of my jobs here is to take apart guns to get cover photos for the assembly/disassembly books. Spending time handling pistols and understanding how all the parts work, before heading to the range, helped me feel much more at ease when it came time to shoot. Malfunction? No need to panic – I know how this works. Evidently, stripping something down removes the mystique, and in the case of both guns and ammunition, that seems like a good thing.
Prior to attending this class, the extent of my experience shooting handguns was a few rounds through a .41 mag revolver, and half an hour at the outdoor range shooting a Glock 19 with fellow editor Corey Graff. He schooled me on Massad Ayoob's five elements of stance, grasp, grip, sighting and trigger roll that provide a solid foundation of shooting skills. (More on the five elements in Chapter 4 of Gun Digest Book of Combat Handgunnery.) That brief time with Corey, practicing those basic principles, made a huge difference. At the end of the class we did a simple shooting competition. Applying those five principles, I easily won first place.
Next on my list of adventures for this summer is a MAG20 classroom experience with Massad Ayoob. Stayed tuned for the report . . .
If you order any of the books mentioned above, be sure to use promo code INSIDEGDB to get free standard U.S. shipping on your order.
Thanks for reading the Inside Gun Digest Books blog!