A look at the best and most value-packed deer guns for young and new shooters, choices that are sure to put the odds in the favor of aspiring sportspeople.
After taking a poll on Facebook about what my readers would like to see me tackling on this Gun Digest blog, I got a thorough weigh-in on the want for complete hunting setups—gun, ammo, optics and accessories. I also took a pulse on just exactly what types of setups everyone wanted to see, and given that feedback we're going to start with youth deer rifle setups. Yeah, it's a tad late in the hunting season, but still time to dig one in this series that will run for the next several weeks and put it in some fancy wrapping paper for an under-the-tree Christmas gift no child or grandkid will ever forget. Plus, while these may be a little late to get any hunting in with this year, it will give you the next nine months to get your youth shooter super familiar and super safe with their new gun—and can't no one complain about that.
Remington 770 Compact, .243 Winchester Youth
This is one setup that will speed things up and get your kids in the woods for a shot or two if you have a few weeks left in your deer season this year, because the 770 Compact, a revamped upgraded version of Remington's Model 710, already comes with a pre-mounted and pre-bore sighted 3-9x40mm scope. (Some pictures from Remington clearly show this scope as being one of Bushnell's, while others are nondescript, so I'm assuming the company is sourcing the optics from more than one place. It really doesn't matter; with so few truly bad quality optics out there, so long as the one on the 770 Compact you buy is screwed on straight and tight, you should be good to go.)
Couple things I really like about this gun for younger, shorter youth shooters (or women of shorter stature).
First, it comes chambered in .243 in the .243 Winchester Youth version, probably my ideal pick for a factory round that will get the job done on whitetail deer that aren't too far out. You don't really want newer and relatively inexperienced rifle shooters taking shots at yardages they're not familiar enough with and don't have the ability to judge well, so this round, with enough time on the bench and the right coaching from you and, should help keep them reigned in to the 100- to 150-yard range that would effect a clean, humane kill.
Second, this gun has a bevy of kid-friendly stock features. Topping the list is the gun's synthetic stock. Face it, youngsters just aren't as aware of their surroundings as adults are—they're bound to bump the stock of their first rifle hard into a tree, tree-stand, and even drop it trying to get it into a case. Synthetic takes the bumps. Overall, the .243 Winchester Youth gun is kid-friendly short both in overall length (39 1/2") and in length of pull (12 3/8"). Additionally, the gun gets thumbs-up for its groovy-textured fore-end, a safety benefit for small hands, especially those that are gloved. In all, this is a pretty optimal setup for most pre-teen and teen hunters that haven't passed a height of about 5'5" or so.
I thought the only drawback of this gun would be its weight. At 8 1/4 pounds, complete with scope, this one's a tad on the heavy side. If you're going to trek a long way to a stand, I can hear most 12-year-olds whining, "Dad, can you carry it for me, pleeeaase?" On the other hand, when it comes to shooting, this gun's going to suck up some recoil that, even from the rather mild .243 round, might otherwise be off-putting to newer rifle shooters. There's a trade-off for everything.
From a functional standpoint, the Remington 770 Compact shouldn't disappoint. Taking a lot from its venerable parent, the Model 7000, this gun gets a six-groove button rifled barrel, a short 60-degree bolt throw that's easily workable for small operators, a four-round detachable magazine (teach the kids it out for transport, an extra safety bonus) with an improved latch that less nimble hands can operate more positively, and molded on sling swivel studs that won't come unscrewed and lost. All in all, it should take more than a half-box of ammo on the range to get this one up and running and your kid's first doe in the freezer.
MSRP: Remington's website says prices for the Model 770 Compact Youth start at $373. I trust prices somewhat higher than that are for those non-youth rifles but still compact rifles available in larger calibers.
Remington Copper Solid .243

If your kids recycle more soda cans and plastic grocery bags then you do, then they've already gotten the gist of the green movement. Keep encouraging them, with Remington's Premier Copper Solid line of centerfire ammunition. These rounds were created to satisfy mandatory non-toxic regulations that some states have put in place for public hunting lands, but unlike the first steel loads that were introduced for waterfowlers when lead was first banned, this stuff works well. The 80-grain boat-tail bullet of the .243 round, backed by a 9 1/2 primer, leaves the muzzle with 1993 ft-lbs. of energy, retaining 1610 ft.-lbs. at 100 yards and 1291 at 200. Velocities are 2696 feet per second (fps) and 2403 fps at 100 and 200 yards, respectively (you can see the full ballistics chart here). All perfectly useful for thin-skinned whitetails, but it was the bullet performance that got me interested. Remington claims nearly 100% weight retention upon impact and penetration, and kills with a well-placed shot should be easy-peasy thanks to how the bullet acts. To quote the Remington website, "At impact, the polymer tip acts as a wedge, plowing through a built-in expansion chamber and initiating a mushroom that's consistently 1.8x bullet diameter—creating a large terminal wound channel from close range to the farthest reaches of your shooting ability." I'd like to see this in a gelatin test, myself, just for curiosity's sake, but if this is as good as the company's purported, this is ammo that will leave your child with their first whitetail trophy dead at their feet—and that's a much better alternative than a kill gone wrong that turns your kid off hunting forever.
Tip of the Day: I don't know about you, but money doesn't grow on trees. Still, $373 for a scope and gun seems pretty much a disposable price to me. (In other words, you know this probably won't be the last rifle you buy your youngun). For that relatively small amount of dinero, I say make this gun whatever it needs to be. If you need the stock to be shorter, especially for use over heavy winter clothing, get a competent gunsmith to cleanly sever another quarter or half inch or whatever it takes off the end and properly refit a butt pad. Too, you can layer some mole skin over the cheekpiece (the 770 Compact already has a slightly raised cheekpiece) to bring a small face better in line with the scope–and I'd recommend this over one of those lace-on or slip-on stock covers that can get hung up on clothing. Too, you might want to choose to handload for this gun and tailor a load that eases up on recoil for really sensitive kids, while still ensuring there's enough oomph at 100 or 125 yards to get the job done.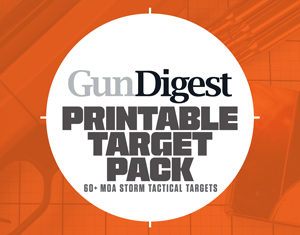 Next Step: Get your FREE Printable Target Pack
Enhance your shooting precision with our 62 MOA Targets, perfect for rifles and handguns. Crafted in collaboration with Storm Tactical for accuracy and versatility.
Subscribe to the Gun Digest email newsletter and get your downloadable target pack sent straight to your inbox. Stay updated with the latest firearms info in the industry.