Think your rifle shoots at distance? It doesn't unless you know minute of angle like a Palma shooter knows minute of angle.
"What you have to have is a rifle/ammo combination that you could consistently shoot into 1/2 minute of angle or less with iron sights at 1,000 yards if there were no wind. An impossibility you say? Not so. Most of the top 30 or so long-range shooters in the country end up as members of the U.S. International Palma team. In the Palma match, these shooters consistently shoot scores above 440 … . Do you think these shooters can judge the wind to within 1/4 MOA? … [W]hen they shoot scores on the order of 447 or better with a high X-ring count in really strong, tricky wind, they would have to be judging the wind that closely to keep 42 out of 45 shots in the 10-ring … . I may be wrong, but I don't think anybody is that good a judge of the wind, not at 1,000 yards. In my opinion, without a half-minute rifle, that kind of score is just a dream."–Randolph Constantine, Modern Highpower Competition, From Beginner to Master, from the chapter "Long-Range Competition"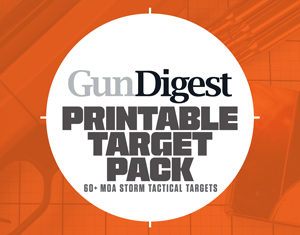 Next Step: Get your FREE Printable Target Pack
Enhance your shooting precision with our 62 MOA Targets, perfect for rifles and handguns. Crafted in collaboration with Storm Tactical for accuracy and versatility.
Subscribe to the Gun Digest email newsletter and get your downloadable target pack sent straight to your inbox. Stay updated with the latest firearms info in the industry.