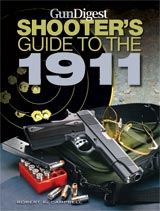 My first handgun, technically, was a Thompson/Center Contender in .221 Fireball. As much fun as that one was to play around with for target shooting, it was hardly a suitable gun for self-defense.
I moved from there to a stainless, two-inch barreled S&W 686 revolver, and then to a SIG Sauer P230 in stainless. I carried that diminutive SIG for a while (it was a much smoother shooter and never bit the back of my hand like similarly designed but narrower Walther PPK did), but it wasn't a ton of fun to shoot. What was fun to shoot were any of the .45 or .38 Super Colt 1911 guns the local IPSC shooters brought to the range where I worked.
Every Thursday night, a dedicated group of 10 or so shooters came in to practice their draw drills and double taps, and they soon drew me into their fold. After my first match, using a borrowed 1911 pistol and holster rig, I knew I had to have my one, and after the ridiculous three-day wait in Fairfax County, Virginia, I was the proud owner of an all-stainless Colt .45.
I enjoyed that gun for a long time, customized it, reloaded for it, and shot a lot with it. And while I eventually transitioned to a polymer-framed double-stack Kimber .45 (which is, of course, based on the same basic 1911 design), I wish I'd had Robert Campbell's Gun Digest® Shooter's Guide to the 1911. Campbell has all the tips for technique and general shooting that I sure could have used back then, the history behind this iconic handgun, and real-world evaluations of dozens of variations on the them, this book is an all-inclusive look at what almost no one would argue truly is the greatest pistol of our ages.
Click here to pick up a copy of Gun Digest® Shooter's Guide to the 1911 at a great price from GunDigestStore.com.
Bonus Editor's Pick: Gun Digest Big Fat Book of the .45 ACP by Patrick Sweeney
What better to go with a book on the gun than a book on the ammo that feeds it? The Gun Digest Big Fat Book of the .45 ACP by tactical guru Patrick Sweeney is the perfect accompaniment to Campbell's book on the 1911. You'll get the history behind this famous round, plus information for tweaking handloads, the stories behind the components themselves, everything from primers to brass, powder and bullets, and much more.
Click here to check out the Gun Digest Big Fat Book of the .45 ACP.