To shooters, collectors, and historians, there's only one serious candidate for the title of the World's Greatest Pistol – the Model 1911. Now, just in time for its hundredth anniversary, comes Gun Digest Shooter's Guide to the 1911.
Written by renowned 1911 authority Robert K. Campbell, Gun Digest Shooter's Guide to the 1911 is the definitive shooter's guide to John M. Browning's most famous creation. From tips, tricks and techniques for getting the most out of your 1911 to real-world evaluations of more than 50 different models of the 1911, you'll find it in Gun Digest Shooter's Guide to the 1911.
Here's a peak at what's inside:
"The fit of the barrel to the slide is far more important than the fit of the frame to the slide, although each must be good and tight for first-rate accuracy. We all want accuracy but we have to understand how much we need and how much we are willing to pay for . . ."
"Probably the main complaint with otherwise decent factory actions is creep, i.e., movement after takeup and before the hammer falls. Creep is disconcerting to an accomplished shooter. I have a number of procedures in my bag of tricks that are SOP in obtaining a first class trigger action. First, . . ."
Find out which chapter evoked this comment from the author: "This chapter was the one that appeared to be the most fun as I worked up the final draft for this book. Conversely, it was the most work and absolutely the most difficult."
Robert K. Campbell has a background of over twenty years in law enforcement as a trainer, weapons tester, and a street cop and is one of the most prolific writers today on the subject of fighting weapons. He has been published in most of the better publications dealing with fighting firearms and edged weapons including American Rifleman and Guns & Ammo. He is also a  contributing writer for Gunblast.com, the online magazine. A previous book from Robert, The Gun Digest Book of Personal Protection & Home Defense, is available from Gun Digest Books.
Click here to get your copy of Gun Digest Shooter's Guide to the 1911.
---
Recommended 1911 Resources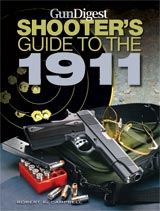 New! Gun Digest Shooter's Guide to the 1911
Massad Ayoob's Greatest Handguns of the World
1911 Series Disassembly-Reassembly DVD