You'd have thought the French would have had the first order in for its own new FN Hi Power. Alas, it was not to be.
"Though, ironically, the French, who started the whole concept, never did adopt it, the gun was adopted by FN's native Belgium as soon as it was formally introduced in 1935. International interest in the new pistol was great, but the Nazi invasion of the Low Countries quickly brought Belgium into the German orbit, where more than a quarter-million Hi Powers would be produced for the Nazis, many by slave labor."—Massad Ayoob, Massad Ayoob's Greatest Handguns of the World, Volume 2, from the chapter "The Browning Hi Power."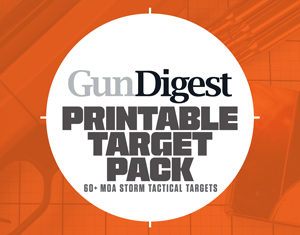 🎯 Exclusive Offer: Get Your FREE Printable Target Pack!
Dive into precision shooting with our 62 Exclusive MOA Targets featuring DOT Drills. Perfect for both rifle and handgun enthusiasts, these targets are designed for accuracy, especially for long-range shots.
Why You'll Love This Pack:
🎯 Expertly Crafted: Brought to you in partnership with the renowned Storm Tactical.
🎯 Versatile Use: Suitable for both rifle and handgun range sessions.
🎯 Precision Design: Target grids and bullseyes meticulously measured in MOA for the best shooting experience.
Bonus: By grabbing this offer, you'll also be subscribing to the Gun Digest email newsletter, keeping you updated with the latest in the world of firearms.
Don't miss out!
Simply enter your email below, and we'll send your downloadable target pack straight to your inbox.