Time is running short for getting gifts for gun owners ordered for the holidays, but it's not out yet. To help you along, this week's editor's pick is really three picks.
Chosen with an eye for gifting the gun person in your life you think has everything, because really, everyone who loves guns is almost always a gear nut, too, which means they never have enough gear. And there you have it. Check out these three picks, then wander around www.gundigeststore.com. We're more than just books on firearms and shooting!
Top 3 Gifts for Gun Owners
Remington Fast-Snap Universal Firearms Cleaning Kit—We like this kit for a variety of reasons, including the pull-through flex "rods," the large number of cleaning brushes, jags, and mops, a battery operated bore light, and the fact that there's enough here to work across the spectrum of most common rifles, pistols, and shotguns.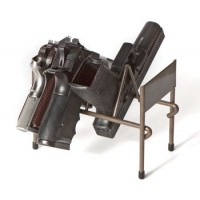 Stackable Pistol Rack—This is the perfect range or safe accessory for the owner of multiple handguns. This compact holder cradles four handguns in the same space one flat on its side takes up, and its PVC coated so guns won't get scratched or marred.
Gun Digest 70th Anniversary Custom Knife—We are big fans of Bark River Knives and were absolutely thrilled with the Bob Loveless-style, full tang drop hunter they created to help us celebrate our 70th Anniversary. For the gun lover in your life who has every volume of our Gun Digest annual in their firearms library, this handmade custom knife would just be icing on the cake.