Back in the 1957 "Gun Digest," Col. Charles Askins wrote a gun review for the 44 Magnum. Let's take a look back at this classic "Gun Digest" material.
It occurs to me that some of us may not have been around to read it then, and it might be fun to introduce new readers to some of this classic Gun Digest material. And for those who were around for the initial publication, perhaps you'll enjoy taking another look. This excerpt may be a good example of why Col. Askins' writing became so popular:
A MAN'S SIXGUN

A Field Test report on the Ruger and S & W 44 Magnum by Col. Charles Askins, Technical Director

DURING one somewhat lively decade of an otherwise prosaic life, I worked the Rio Grande as a border patrolman. Every night of that half-score years I wished for just such a shooting iron as this big bruiser, this fine new howitzer, the 44 Magnum. Sometimes we had as many as three separate and distinct gunfights during an 8-hour shift. Had this big Maggie sixgun been around what a lulu of a pacifier it would have been on the border.

The Smith & Wesson 44 Magnum.

This Magnum is a man's gun. It ain't for boys. Word reaches me that some joes, probably with lace on their panties, are putting on gloves to shoot it. I hear that after a few shots your hand feels like you had been swinging at some fast balls with a cracked bat. How soft can we get? I shot the big 44 all one afternoon and found the recoil nothing more than stimulating. The kick kind of reminds me of the existing situation down in Dixie where a certain clientele now buy their white lightnin' over the liquor counter in preference to the smoother and legitimate bourbon. Asked why, they explain it's for the kick. Me, I'm the same way about this big 44 blasting Magnum.

Sure, it kicks. But not enough to hurt your hand, not enough, certainly, to remove any hide. That's for the birds. The recoil is a heart-warming, exhilarating sort of thing. Something like standing behind one of these Nike ground-to-air missiles and setting 'er off with your two sweaty little hands. You feel like you have really done something. I like to shoot the gun. I'm betting you will, too.

Firing at 1/16″ steel plate. Big hole in middle made by 44 Magnum. Hole to right from 357 Magnum, standard factory metal point. Indentation to left made by factory 44 Special.

When I knew I was going to field test the Magnums for Gun Digest, I scurried about and asked the Kimball Arms Co. for a sample of their 30 (carbine) caliber auto pistol. It appealed to me that it would add a good deal of fillip to the brew if I assembled a modest rack of our more poisonous one-hand guns and then fired 'em all, one against the other. I am still waiting on that Kimball 30 to arrive. Maybe the carbine cartridge doesn't show up too hot in that peewee 5-inch barrel — who knows?

Bill Ruger, after some gentle persuasion sent me the X-2, a strictly pilot model of his soon-to-be-ready 44 Magnum. This is the 357 Blackhawk, essentially, with an especially heavy, non-fluted cylinder. A handsome piece of ordnance.

Bill Wilson, chief guru at Great Western, contributed a 7½-inch 357 for the cartridge he likes to call the "Atomic." After the gun got here he wrote me and said he was then making his Single Action for the 44 Magnum cartridge. I'd rather have had it.

I had in my personal battery a 357 S&W Magnum given me by Doug Wesson 20 years ago. I was ready to commence the powder burning …
Entertaining writing, for sure! To read the rest of this gun review, as well as much more from the great writers from the 1950s, pick up a copy of the 1957 Gun Digest annual: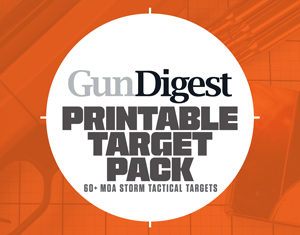 Next Step: Get your FREE Printable Target Pack
Enhance your shooting precision with our 62 MOA Targets, perfect for rifles and handguns. Crafted in collaboration with Storm Tactical for accuracy and versatility.
Subscribe to the Gun Digest email newsletter and get your downloadable target pack sent straight to your inbox. Stay updated with the latest firearms info in the industry.