Back in the days when robbing banks got you fame and glory — and ultimately a body full of FBI bullets — John Dillinger was rigging his 1911 the full-auto way.
"During the bank robber era, some guns-savvy outlaws had gunsmiths make select-fire handguns for them. In fact, an Arizona gunsmith created a full-auto 1911 .38 Super for John Dillinger, complete with vertical forearm. In the early days, it was no big deal. It wasn't until the National Firearms Act of 1934 that machineguns were treated any differently than other firearms."— Patrick Sweeney, 1911, The First 100 Years," from the chapter "Between the Wars."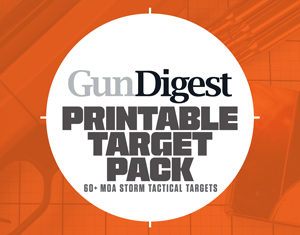 Next Step: Get your FREE Printable Target Pack
Enhance your shooting precision with our 62 MOA Targets, perfect for rifles and handguns. Crafted in collaboration with Storm Tactical for accuracy and versatility.
Subscribe to the Gun Digest email newsletter and get your downloadable target pack sent straight to your inbox. Stay updated with the latest firearms info in the industry.