Updated 5/24/2023
Since its introduction, the 10mm Auto has been putting magnum power into semi-auto pistols. In recent years, it's had a bit of a resurgence in popularity.
What are seven dependable 10mm Auto pistols for hunting, defense and target shooting?
My introduction to the 10mm Auto came in the fall of 2014. I wanted to try some handgun hunting, and I'm a huge fan of 1911-style pistols. But the .45 ACP just didn't have the punch needed for deer and hog hunting — not at any sort of distance anyway. I kept reading about this 10mm Auto, though, available in 1911-type pistols and with power nearly on par with the .41 Magnum.
My first 10mm was a PARA Elite LS Hunter with a 6-inch barrel, and I used it on a couple of deer hunts that fall. Unsuccessfully. Anytime I went afield with the PARA, I either saw no deer or they were 200 yards away. But in the spring of 2015 I took the PARA to Texas in search of feral hogs. Seven hogs later, I was hooked.
So, yes, I am a relative newbie to the 10mm Auto, but so is nearly everyone else. That said, if you require THE EXPERT's wisdom — on this or any other topic — just post a question or a statement on a gun forum or Facebook. He'll find you and inform you.
But during the past 3 years, I've had the good fortune to shoot more than 15 different models of 10mm pistols, reviewing several of them for publications. I've fired a couple thousand rounds of 10mm Auto in that time, using a dozen brands of ammunition, on the range and afield — the latter while taking wild hogs and deer.
These are among the things I've learned about the amazing 10mm Auto.
10mm Auto Basics
First, if you can shoot it well, the 10mm is a much more powerful self-defense round compared to the 9mm or .40 S&W. The larger weight of 10mm bullets and the sheer ballistic superiority of the 10mm round make it so. Most 10mm rounds are loaded with 180- to 200-grain bullets and zip along at 1,150 to 1,250 feet per second (fps) at the muzzle. This is why, for example, handgun hunters use the 10mm — not the 9mm.
Second, it does take some time and practice for most people to learn to shoot the 10mm well. The reason? It has considerably more recoil than the 9mm or the .40 S&W. And more than the .45 ACP, too, I'd argue, unless you are using .45 ACP+P loads. Most pistols made for the 10mm are considerably heavier than other semi-autos, so they can be harder to aim with consistency, too.
Get An Edge On The 10MM:
Third, the 10mm is a versatile round, able to shoot farther and with more power than most semi-automatics. They are a lot of fun to shoot and to hunt with, and they should be at the top of every handgunner's "to-do" list.
The Glory Days
The history of the 10mm is wrapped up with Col. Jeff Cooper, founder of the Gunsite training facility and the father of the "Modern Technique" style of pistol training. Cooper was a huge fan of the 1911 platform. But he also understood the limitations of the .45 ACP round. While the big, lumbering 230-grain bullet was a great fight-stopper at relatively close ranges, it quickly lost power as distances increased.
According to various sources, Col. Cooper wanted a better combat pistol round, one with enough energy to launch a 200-grain bullet at 1,200 fps. Some have labeled Cooper as the "inventor" of the 10mm. But gun writer Richard Mann, who has researched and written about Cooper more than anyone I know, says Cooper was more of an "inspiration" to the genesis of the 10mm, not the guy who made it.
In 1983, the 10mm Auto was introduced to the world in the form of the Bren Ten semi-automatic pistol. The initial ammunition, according to Cartridges of the World, 13th Edition, was designed and loaded by Norma with a 200-grain bullet. "Muzzle energy is about double that of the .45 Automatic," the book's authors note.
After the infamous 1986 Miami bank robbery — which saw two FBI agents killed by a pair of very well-armed bank robbers — the FBI looked for a new round; the FBI's duty-issued 9mm had proven itself generally ineffective against the two Miami hoods. The 10mm was the agency's choice — but only for a while. The 10mm's stout recoil and fairly expensive ammunition led the FBI to eventually switch over to the .40 S&W.
For nearly 20 years, the 10mm languished. The occasional pistol was produced, and ammunition offerings were very limited across the board.
But it certainly didn't go away.
The 10mm Auto Renaissance
PARA and a couple other gun makers got the 10mm going once again several years ago: PARA unveiled the aforementioned Elite LS Hunter, and from this the round and pistol began its current steady resurgence.
Now, I doubt that the 10mm will ever be as popular as its smaller 9mm cousin. There's too much recoil in the 10mm round for most shooters, and too much weight in most of the pistols chambered for it. And that's okay.
But we like bigger and faster. When shooters started to see more 10mms on the market and began hearing that the 10mm round was indeed bigger and faster than the 9mm and the .40 S&W — with superior muzzle energy versus the .45 ACP — more people like myself started trying it. And we quickly discovered what a gem a good 10mm pistol truly is.
Among the current 10mm Auto pistol offerings on the market, here are seven great ones that I have used, and do recommend:
Colt Delta Elite Rail Gun
Colt was one of the few gun makers that kept offering the 10mm in lean times, in the form of the Delta Elite, a 1911 with a 5-inch barrel. This newest variation has a rail beneath the barrel for mounting hardware. I put 300 rounds through one recently, and it's a solid, accurate pistol. The Novak sights are a real treat.
MSRP: $1,299, colt.com
Glock 20
The Glock 20 has been around for many years, and it's a nice handgun: accurate, durable, lighter in weight than most 10s and packs lots of firepower with its 15-round magazine and one in the chamber. For years, folks hunting in big bear country have favored this model as a back-up sidearm.
MSRP: $649; glock.com
Smith & Wesson M&P 2.0
The various sizes and flavors of Smith & Wesson's M&P series have all become very popular, whether it be for home defense, concealed carry or any other task. The pistol family became much more versatile, however, when Smith added the option of 10mm to the lineup in 2021.
Of the 10mm Smith & Wesson M&P 2.0 pistols, there are five available models in total. Two have a 4-inch barrel, one with a manual safety and one without, and two have a 4.6-inch barrel, also with or without a safety. The final and newest model is a Performance Center variant, and it features a 5-inch barrel with a ported barrel and slide as well as other Performance Center upgrades. Regardless of the model selected, all have optics-ready slides. The rest of the pistols' details are otherwise exactly what the public has come to love and expect of a Smith & Wesson M&P.
MSRP: Starts at $659; smith-wesson.com
SIG Sauer P220 Legion
SIG's P220 line started life as a .45 ACP, but a while back the company introduced some 10mm variants of the P220 as well. Currently, however, the only model offered by SIG in 10mm is the P220 Legion Full-Size. Featuring a Legion Gray finish, these pistols sport 5-inch barrels, SRT (Short-Reset Trigger) DA/SA triggers and steel guide rods. They also come with optics-ready slides and X-RAY3 Day/Night sights.
You may want to try and find some now-discontinued 10mm P220s on the used market, such as the Hunter with a Kryptek camo finish, as the Legion series guns are from SIG's top-shelf and cost a pretty penny. That said, if you can afford it, the upgrades found throughout the P220 Legion should be appreciated.
MSRP: Unpublished, ~$1,599 street price; sigsauer.com
Ruger SR1911
Ruger got into the 10mm game recently by offering its SR 1911 in that caliber. A fully adjustable Bomar rear sight, a blacked-out front target sight and a stainless-steel bull barrel add up to very impressive accuracy. The rubberized grips also provide a solid hold.
MSRP: $1,269; ruger.com
Republic Forge 10mm Long Slide
Made one at a time by true 1911 craftsmen, Republic Forge is the Rolls Royce of 1911s, with the 10mm Long Slide model a contender for the best 10mm I've ever used. Very accurate and extremely reliable, the Long Slide has a 6-inch barrel, and it can be had in all manner of color and finish options, various grips and Novak Night or Bomar sights.
MSRP: Starts at $4,915; republicforge.com
Springfield Armory XD-M Elite
Maybe the best in the affordable category of 10mm pistol options, the XD-M Elite holds its own again all comers. The line of Springfield Armory's polymer-framed, striker-fired pistols are renowned for well thought out ergonomics, making it a very controllable launchpad for the "Perfect 10". Plus the guns are available in a slew of configurations from compact carry piece to the duty-sized and optic-ready tactical OSP. Honestly, the XD-M in all its iterations offers shooters an accurate and solid 10mm pistol—one many have found more than fills the role of a heavy hitter.
MSRP: $653; springfield-armory.com
As mentioned, the 10mm isn't likely to win any peoples' choice awards anytime soon. There's simply too much gun and too much recoil for it to gain the foothold the 9mm has enjoyed. That said, the 10mm will always be a performance frontrunner in regard to the "bang you get for your boom."
Bonus: 10mm Auto Ammo Options
If you love your 10mm, you must feed it, and there are more ammunition choices today in this caliber than ever before. Among those I have used and do recommend, are:
Barnes Bullets: The VOR-TX firing a 155-grain all-copper XPB Bullet is ideally suited for whitetail deer and hog hunting.
SIG Sauer: The Elite Performance FMJ in 10mm is a solid range and practice round, while the 10mm V-Crown load with a 180-grain JHP bullet is a great option for both hunting and self-defense.
Federal Premium: Federal's American Eagle line of range ammo includes the 10mm with a 180-grain FMJ bullet, and it's a workman's choice for practice. And what about for hunting? The Vital-Shok Trophy Bonded with a 180-grain JHP bullet is tough to beat.
Hornady: The Critical Duty 10mm round with a 175-grain FlexLock bullet has "man stopper" written all over it. Gel tests say so, too. For hunters, the Custom brand is the choice. It's loaded with the 180-grain XTP bullet, a lead core covered by gilding metal, for deep penetration on the toughest game animals and reliable expansion.
Remington: The Remington UMC in 10mm is about the most reasonably priced choice for the range I have found. It's clean burning, too.
Team Never Quit: Team Never Quit was created by retired Navy SEAL Marcus Luttrell (yes, the Lone Survivor guy), and his TNQ 10mm self-defense round fires a 155-grain solid copper bullet that's very accurate, up close and 40 yards away. The 125-grain frangible load is a 1,360 fps screamer (out of the R1Hunter) and is fine for training on steel at close ranges.
Winchester: I recently used the Winchester Super X 10mm Personal Protection load with a 175-grain Silvertip JHP bullet. It proven very accurate at 20 and 25 yards. I'm still waiting for Winchester to make a Razor Boar load in 10mm for my hog hunting, though.
PolyCase: PolyCase is scheduled to be coming out with a new 10mm load firing a 91-grain copper and polymer bullet, rated at a scary 1,800 fps out of the barrel. I used several hundred rounds of this new ammo during PolyCase's testing phase, and it's accurate and consistent, with no feeding or ejection problems.
Many more 10mm ammunition brands and pistols are available today, too, and I expect a good number of new entries in coming years. Yes, it's a great time to be a fan of the 10mm. Jump in now, before the 10mm waters get too crowded!
Editor's Note: This article is an updated excerpt from Gun Digest the Magazine.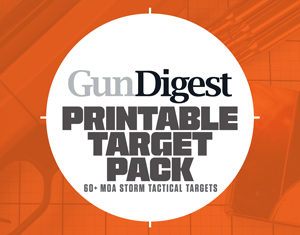 Next Step: Get your FREE Printable Target Pack
Enhance your shooting precision with our 62 MOA Targets, perfect for rifles and handguns. Crafted in collaboration with Storm Tactical for accuracy and versatility.
Subscribe to the Gun Digest email newsletter and get your downloadable target pack sent straight to your inbox. Stay updated with the latest firearms info in the industry.