Do you know when you can lawfully use lethal force? Can you explain your self defense choices? If you have any doubt, Massad Ayoob's class can clear it up.
I recently spent two very long and intense days with 25 other students in the MAG-20 Classroom – Armed Citizens' Rules of Engagement course. Mr. Ayoob lived up to his reputation, and it will come as no surprise when I say that the class delivered what was promised, in spades.
The class description (from massadayoobgroup.com) says this:
A two-day, 20-hour immersion course in rules of engagement for armed law-abiding private citizens, emphasizing legal issues, tactical issues, and aftermath management. Topics will include interacting with suspects, witnesses, responding police officers…threat recognition and mind-set…management of social and psychological aftermath after having had to use lethal force in defense of self or others…and preparing beforehand for legal repercussions and minimizing exposure to them.
"Immersion course" indeed
When they describe it as an "immersion course," they are not kidding. Once we started on Saturday, we worked straight through for 11 hours. "Breaking for lunch" meant getting our lunches and bringing them back into the classroom to continue working. Sunday was the same, although we did finish in only 10 hours.
The content and presentation of the material was so captivating that my mind never had a chance to wander. The first time I looked at the clock on Saturday, it was already 4:00. There was a continuous stream of new and technical information and, while questions were answered and clarifications made, very little time was spent on review of material already covered.
If I knew then what I know now
The class I attended was close enough, about a 90-minute drive each way, so I went home Saturday night. If I had it to do over again, I would get a room and stay nearby. Many from the group went out for dinner that night, and I think that time to process with the other students would have been valuable.
Along that same line of thought, I wish I had attended with a friend or associate. It would be nice to have someone who had been through the experience to process with after the class.
Do you understand when you can/cannot use lethal force? Are you sure? Can you explain and defend your choices (choice of weapon for concealed carry or home defense, choice of ammo, modifications to your gun, why you fired when you did)?
If you cannot articulate the reasoning for your choices now, you will have the ability to do so after you take this class. When threatening circumstances arise, you will have the information you need to make a reasonable and prudent decision.
Ayoob's presentation of the material is based on an intricate knowledge of black letter and case law, and decades of experience testifying as an expert witness in self-defense shooting cases. When it comes to the use of lethal force, to quote Massad, "The power and responsibility are commensurate." Do not fire unless you are on solid legal ground. If you own a firearm for self defense or home protection, you have a duty to be crystal clear about what that means.
My three main takeaways
1. On a couple of different occasions, Massad alluded to his confidence in the justice system, and had first-hand examples to back it up. He said that if the truth is on your side, and you can communicate the truth, "the truth will set you free." Prior to this class, that was not my impression of the system.
2. Many commonly misunderstood issues (shooting someone who is running away, furtive movement, using hollow point bullets for self defense, and interacting with law enforcement after an incident has occurred, for example) are now much
more clear to me.
3. A cognitive understanding of the choices involved in using a handgun in self defense is one thing. Confidence in the ability to do so is quite another.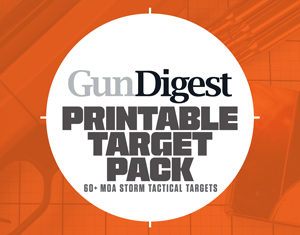 Next Step: Get your FREE Printable Target Pack
Enhance your shooting precision with our 62 MOA Targets, perfect for rifles and handguns. Crafted in collaboration with Storm Tactical for accuracy and versatility.
Subscribe to the Gun Digest email newsletter and get your downloadable target pack sent straight to your inbox. Stay updated with the latest firearms info in the industry.